Last Updated on 01/23/2021 by Veronica Jones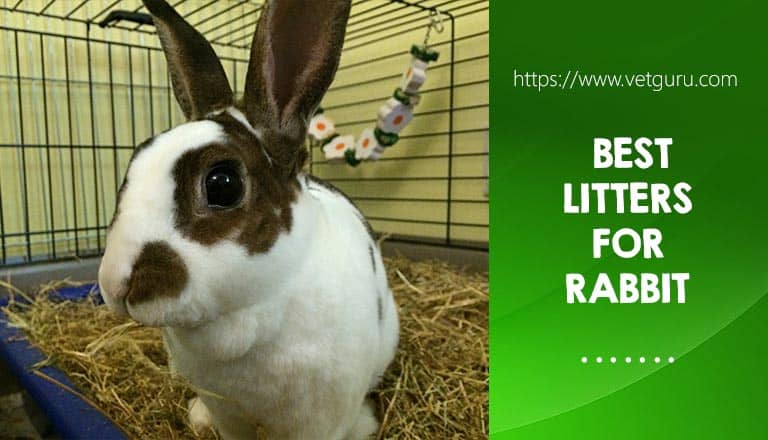 Rabbits are the type of animal that needs almost the same habitant as you require. They look for comfort in each of their cage corner.
As they're very fluffy pets and you cuddle them sometimes, they need to be remaining fresh on their environment. That's why Litter is a very important part of their home.
You should be pretty selective and careful when it comes to picking a great litter for your rabbits. Always focus on the products that have a higher absorbency level.
Some brands of litters can absorb liquids about 3X than many others. Importantly, choose something free of dust and non-toxic if possible.
But, if you're new rabbit owner and don't have as much as necessary experience about the litters, getting the perfect litter for the pet would be very tricky.
This is why we're here to help you with some selected and top quality litters for your rabbits that will help you definitely.
Top 5 Best Rabbit Litters
1. Fresh News Paper Small Animal Litter
This is the best litter among many other top brands and models for your rabbit and some other kinds of pets.
The product is not just friendly for the rabbit housing environment, it's good for your home as well. The making technology of the litter is Ammonia Locker that makes it able to eliminate odors quickly.
Keeping your rabbit housing fresh, the litter ensures the surroundings without dust. It's widely essential for your loving pet.
Also, it's more absorbent in comparison to many leading brands. Apart from its higher absorbency, the litter is very durable and reasonable in price that has made it more popular.
The product has made from a type of biodegradable paper that's 100% post consumable. So, this is helpful to cut down rubbish in landfills and a great way to save trees.
The Fresh News is indeed a new brand in the market, but its products are very higher in quality. This is very true for this rabbit litter as well.
Because of its 99% free of dust feature, you can set it on your pet's cage easily. Also, the litter has made with high-quality materials, so it offers a smoother finish that your pet will like very much.
But, some users say about its one issue widely that it rarely blocks the odors and some other complaint their pets are not responding on it.
Pros
Higher absorbency
Firmly built
100% post consumable
99% free of dust
Cons
2. So Phresh Paper Pellet Small Animal Litter
As its name suggests, the product is quite suitable for your smaller pet like a rabbit. It's the major reason it's 95% post-consumable materials that will keep the pet as comfortable as free of injuring or cut.
This is why the litter is very safe and suitable for use in all types of environments without making any issue.
The product is free of fragrance, so it doesn't add unexpected smells to your pet's bedding. But, it keeps the surroundings fresh with its extract of backing soda by locking odors.
Thus it'll control all unnecessary odors coming out from the rabbit's poop and pee that converts them into some nice and manageable smells.
Another feature you'll like about the product is that it's 99% free of dust. That means it's very simple to clean plus it'll help you to prevent spreading unnecessary dust and dirt while cleaning the bedding and cage.
But, we like to suggest you changing its bedding routinely for improved freshness.
Buying this litter is also a good thing for your home environment as the item is made of 100% biodegradable materials.
As a result, it'll offer you a safe and fresh home inside without any annoying smells. Its no fragrance characteristics and natural stuff have suitably made for your small buddy like your rabbit.
Pros
A perfect selection for rabbits
Enhanced with baking soda
Keeps the air fresh for the entire house
Biodegradable100% recyclable materials
Cons
A bit big pellets that are tough to use
3. Carefresh Complete Pet Bedding
Representing as an affordable litter, the Carefresh is the right choice for your rabbits if you're looking for a product within a reasonable price.
That means when you're in search of pet accessories at a considerable price, this item is the right choice for you. But, the product has not compromised with the quality in any way.
You'll find it in different sizes that will meet your needs and budget. So, you can choose your specific one along with the price that you can afford, which is a very big plus point.
But, you should not forget one thing that when you buy something in a larger amount, it'll bring you some more savings towards the end of each month.
This is especially very handy if you have a clear idea of what sort of pellets your rabbit is into. Besides, you'll get full control over the odors for 10 days without changing its pellets.
Also, the product can absorb liquid 3X time more than shavings. Like other great products, it's 99% free of dust, so it's easy to clean.
As it has the feature of dust-free, it ensures spreading the dust all over your home inside. This is because it's as simple to clean your rabbit cage as you'll be able to keep your home free of odors.
Besides, the item has made from domestic pulp and natural materials. So, it's not just good for the environment, it's also user-friendly.
Pros
Available in different sizes
Reasonable price
Highly absorbent
Made from natural materials
Cons
Users' complaint about the issue of absorbing
4. Small Pet Select Natural Paper Bedding
The right packaging is a great factor regarding the product when it's sold. This brand of litter comes with an unbleached package that ensures keeping the litter from any possible chemical effect.
And the best assurance of its quality is that the product is made in the USA. So, you can depend on it without any doubt.
This product is perfect for your rabbits and some other animals that are small in sizes. The texture of the litter is very soft and it comes with a highly absorbing strength.
As a result, it prevents the cage from being stingy smell. Also, the final look of the item is 3X more volume consuming than many other costly products out there.
Thanks to its natural and premium quality materials, the product is free of dust and not fragile to the feet of the small animals.
Moreover, you'll get an assurance of 100% satisfaction that your rabbit will not be disappointed with this littering system eve. Thus, you're free of stress about your pet and their litter.
Because of designing for smaller pets like rabbits, the litter of this brand is much comfortable and soft. So, your undersized rabbits will be thriving easily.
People usually like to have small pets for companionship and joy to their lives. But, the life of a small pet is very sensitive that needs some extra care. So, this litter is the best choice for them.
Pros
Well-made packaging
The USA made
Bigger expansion
Consumes 3X more
Cons
5. Vitakraft Fresh World Strength Crumble Bedding
It's another high-quality litter that's free of baking soda can easily control dingy smell for more about 14 days. You'll need to spend less cleaning time.
So, it's very popular for the owners who don't have enough time to work for cleaning the litter and cage. Thus, you'll get more time to enjoy the company with your rabbit.
The product was formulated to absorb 3X more liquid and moisture of its weight. It means that the item works in the same way the most other high-quality products do.
The litter has composed of recycled and crumbled paper from the recycling program of PaperGator that's a great and very rare thing for this item.
It'll give you a 2 or 3-inch littering on the floor of your pet's litter box or cage. The litter has designed with the formula of the Ultra Strength that controls bad smells for about 14 days.
When it wets, change its bedding. Or, do it when you find the odor control is no longer working effectively for your pet.
This product is not just advantageous for your pet; it's also handy for the surroundings of your home inside. It's almost 100% free of dust ensuing in a very healthy environment and less mess for your rabbits.
This USA made litter offers safety for you and your pets because of having an unbleached and paper used to pack.
Pros
Control odor effectively
Less expensive
100% free of dust
3X liquid absorbent
Cons
Built with the fragrant scent
Things To Consider Before Buying The Best Litter For Rabbit
Buying for some high-quality rabbit litters might be a difficult task. It can happen especially when your pet is very young and still struggle to adjust to keep pace with the new setting.
But, you always should prioritize on the premium littering with freshwater and better quality food.
When you'll peep in the market, you'll find assorted types of brands and models of litters for rabbits.
Don't get confused with them, just read the below topics that will make you understand what you should consider before you but the best litter for your rabbit.
Used Materials
First off, decide if you're sticking to wood, clay, or paper. Every type of fabric has its own benefits and drawbacks. But, this is completely depending on you which material eventually you'll choose.
If you look for a cheaper one, you may go with wood bedding. But, they'll not be very durable and you'll have to change them routinely, in some cases even daily. Thus, you'll be able to ensure dryness and freshness to your pet.
Among the many types of made materials, the paper made ones are getting more popularity. Not just because of its cheaper prices, but also thanks to its built quality.
So, we recommend you should go with the best quality paper made litter for the greatest result.
Odor Control
The ability to control odors is another strongly considerable factor of your pet litter. If you choose the premium quality litters of some top brands, it's just a simple way to prevent dingy smells.
But, getting failed to pick the right one for your pet; it'll be harmful to your rabbit and for your home environment as well.
This is why we always recommend buying from the above-reviewed ones as all of them come with better odor-controlling features. Also, there are options for fragrance-free and fragrance less litter.
Although both are good, you should be confirmed which one your pets like. Also, it's the same for the baking soda extractions.
Build Quantity
Learn about the build quality of the litter because you'll have to use it regularly for your pet. So, you should check the product whether the pet feels comfortable or not.
If it likes the litter, you can use it continuously and buy a large amount to the product to save some bucks.
However, you should change the litter every 10 days or one week when it becomes dirty. Another considerable quality is that it should be highly absorbent.
That's why you have to choose the best quality materials and you'll get it from the top brands.
Frequently Asked Questions
What Are The Types of litter I Should Use?
You can use the litters that you'll find easily in your region and what are very preferable to your rabbits.
You have to consider something very strongly like the litter should be made from used or recycled paper. Also, you can use exclusive hay since rabbits like it very much.
Why Do My Rabbits Pee Outside Their Litter Tray?
When a rabbit loses or forgets its litter training, it can pee outside its litter box or tray. So, you have to train them up in a very small area using the litter tray.
If they make any messes then remove and clean them soon. It'll prevent them from going there out again if you release them.
Why Do My Rabbits Leave Droppings Outside Their Litter Tray?
It's nothing annoying as the behavior is very common. Most of the rabbits do it around their litter tray as they think it their own. You can train them to prevent it, but it's really tough to do with them.
Can I Train My Rabbits For Litter Box?
Yes, you definitely can. Many people train their rabbits up in the same way their cats do. But, some people spend a tough time with them to train. No matter they take less or more time to be trained, you can do it.
Conclusion
Earlier than reading this content, it was a tricky task to buy the best rabbit litter. But, you'll all set by now to choose the right piece of litter for your small companion. It's because you know about the top five products, buying guides, and FAQs.
These all are very handy to make the right decision of buying the best one. Hopefully, you'll be able to find your preferred litter and enjoy more time with your little buddy.