Last Updated on 01/23/2021 by Veronica Jones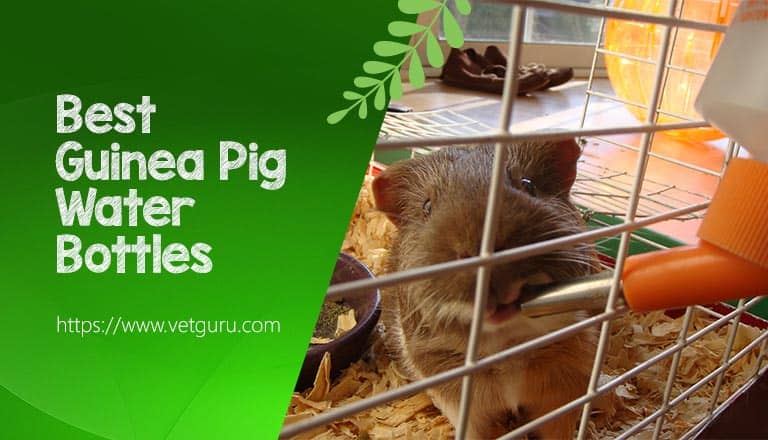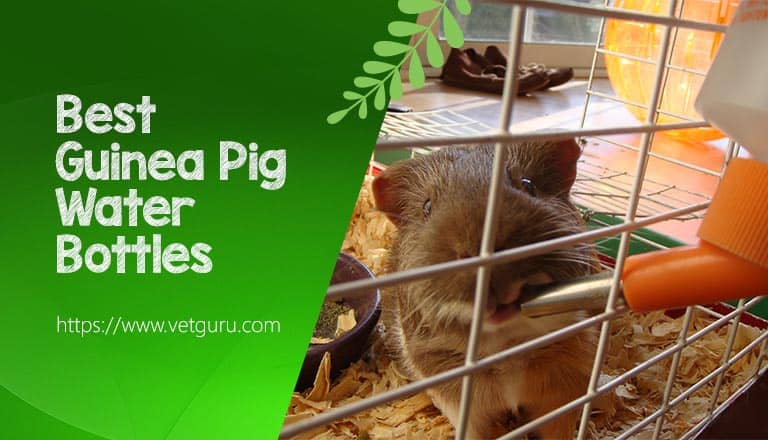 Guinea pigs need a good amount of water to stay healthy and hydrated. In fact, a hot sunny day may cause their thirst to increase.
On the other hand, if your small furred friend drinks too much, she could probably be suffering from a given illness.
You can regulate the amount of water your guinea pig drinks by buying a good quality water bottle.
The design and material of the bottle should be of good quality.
Not all the water bottles for small pets will have the ideal design and material.
Lucky for you, we managed to find five bottles that your little pal will love to drink from.
Top 5 Guinea Pig Water Bottles
#1. Choco Nose Patented No Drip Bottle
Key Features:
US Patented
No Drip
2 Ounce Capacity
Easy Installation
Mini-Sized Nozzle Suitable for Guinea Pigs
Choco H128 is an important accessory for your lovely small furred friend. This unique bottle is designed from heavy-duty plastic that will not get damaged easily.
The bottle is equipped with a stainless steel valve that has the ideal tightness, which is great because it ensures your pet drinks clean water always.
It has a user-friendly and ergonomic screw-on bracket that is remarkably easy to install, which makes it easy to snap on and off when you want to clean and refill.
This product comes with a nail-on bracket, which is great because it allows you to nail the bottle on wooden furniture or wall with screws.
This bottle has a resourceful transparent tank that allows you a one glance check on the water level, making refilling super easy.
It has a practical fastening system, which adapts easily with most types of cages. It is; therefore, a very versatile product for any guinea pig parent.
The nozzle design may be more leak-proof than you may have expected, which may possibly fail to dispense water for your small pet.
Things We Like
Screw-on and nail-on brackets allow for simple installation
No drip design doesn't mess the habitat
10 mm nozzle is safe and convenient
Transparent bottle makes refills easy
Things We Don't Like
May be a little bit too tight
#2. Depets No Drip Small Animal Water Bottle
Key Features:
Plastic design
320 ml capacity
Twin ball non-leak
Gnaw resistant spout
Depets is a sturdy and well-made water bottle for all your small pets, including your guinea pig, rabbit, or pigeon. The plastic used in its construction is strong and durable.
It has a completely no-drip nozzle, which is great because it ensures the habitat stays dry and clean, ensuring that bacteria don't have a breeding ground.
The stainless steel nozzle is rust resistant and long-lasting. Also, it prevents food crumbles from contaminating the water in the bottle.
This is quite a small size design of 250 ml capacity, but it holds more than enough water for keeping two guinea pigs hydrated for twenty four hours.
The bottle comes with a reliable screw-on attachment that is remarkably easy to install on a caged guinea pig habitat.
Using the bottle is super easy. Just fill up with water and then turn it upside down with the spout facing downwards. Then press the steel ball to get rid of all the air in the bottle.
Things We Like:
Perfect for a guinea pig, rabbit, or pigeon
BPA free design is safe for small pets
High capacity of 250 ml is more than enough
Does not leak and release adequate amounts
Things We Didn't Like:
Poor quality wire attachment
#3. Mid-West Homes for Pets Small Animal Water Bottle
Key Features:
Compatible with most cage designs
Simple lift top cap for easy and quick refills
Can be installed on class or wire
Stainless steel spout is durable
This product features BPA free, heavy-duty plastic, which is great because this material is not produced harmful elements and it's durable.
This specific bottle is designed to fit all Mid-West Homes pet habitats, including guinea pigs cages, playpens, and rabbit locales.
The bottle comes with an impressive plastic screw bracket that attaches easily to a traditional small animal cage.
Its installation is highly versatile because you can conveniently mount it on glass with suction cups (which are easy to remove for quick refills).
It comes with a stainless steel spout, which is not only rust resistant but also ergonomically designed for repeated use without leaking.
It has an easy fill lift top cap, which is great because it allows you to keep the bottle filled without always removing it from the side of the cage.
Things We Like:
BPA plastic material is safe for small pets
Stainless steel spout is rust resistant and durable
Can be attached to wire cages and glass containers
Lift top cap allows for quick refills
Things We Don't Like:
Possible to receive a broken bottle
#4. Living World Eco+ Water Bottle
Key Features:
6 ounce capacity
Made of quality recycled glass
It is drip resistant
Features a water level indicator
The Living World Eco+ 61580 is a suitable water bottle for your guinea pigs, pigeons, rabbits, and chinchillas among other small pets.
If you are not fond of plastic, then this is the ideal product to buy. It is made of quality recycled glass which is scratch and impact resistant.
The glass material is transparent, allowing you to easily observe the water level. There is also a water level indicator that tells you when a refill is necessary.
It features a very stable and no drip nozzle. All your guinea pig has to do is bite the spout gently, squeeze, or suck the bottle in order to drink.
The bottle has adequate capacity of approximately 177 ml, which is enough for hydrating your guinea pig for a duration of twenty four hours.
The only possible challenge that you may encounter with the design are the attachments (spring hanger and spring attachment). They are not as effective as nail-on or screw-on attachments.
Things We Like:
Recycled glass design is durable and safe
Double ball bearing design is pet-friendly
Drip resistant tube prevents messes
Transparent glass and level indicator tells you when to refill
Available in three sizes for preference
Things We Don't Like:
Spring and hanger are not quality attachments
#5. RentACoop No Drip Small Animal Water Bottle
Key Features:
Large capacity (32 ounces)
Heavy-duty plastic material
Replaceable and chew resistant stainless steel nozzle
Lift top cap makes refills easy
RentACoop ensures that your small furred friend gets the ideal supply of essential water for regulating body temperature and boosting bodily functions.
It is made of BPA free (does not produce any toxic elements) plastic material. The stainless steel spout does not pose any danger to your guinea pig.
The no leak structure means no leakages or accidental spills that may otherwise mess the habitat of your guinea pig.
The chew resistant nozzle is easy for your pet to use. Your guinea pig can drink slowly by applying pressure with its tongue without spilling.
The bottle has a large capacity of 32 ounces, which is great because you can use it to keep at least two to four guinea pigs hydrated for twenty four hours.
The installation is remarkably easy, you just have to secure the bottle on a wire cage with the provided universal fit spring clip.
Things We Like:
Large water tank capacity
No leak spout ensures the environment is clean
BPA free plastic doesn't pose any threat
Lift top cap allows for easy refills
Things We Don't Like
Spring clip attachment isn't as durable
Things to Consider Before Buying
You no longer have to hydrate your small pets with a bowl of water as you would a dog or a cat.
Gravity water bottles are the most modern means of hydrating guinea pigs.
What makes this type of water bottle special is the no drip design, which allows your little pal to drink without messing the beddings.
When your guinea pig is thirsty, she can sip from the stainless metal spout of the water bottle.
All she has to do is apply a little pressure and the spout will drip water.
But you can't just go around picking gravity water bottle, you need to pick one that has the ideal features.
Here are the most important features to consider.
Capacity
The first point to consider is always the size and capacity of the bottle. The smallest size bottle should have a capacity of at least 6 ounces.
A smaller bottle of around six ounces will be sufficient for hydrating one guinea pig for a duration of twenty four hours.
A larger capacity of around 10 ounces would be more than enough to hydrate a duo for a duration of twenty four hours.
Nozzle Design
It goes without saying that the design of the nozzle is extremely important.
It needs to be leak-proof, which means it should dispense water without dripping.
Cheap, conventional bottles may claim to have a no-drip nozzle, but may end up messing up the habitat of your guinea pig.
Water bottle nozzles come in different sizes. The most popular sizes being 10 ounces, 11 ounces, and 13 ounces.
The 10-ounce nozzle is ideal for smaller pets, such as birds. The 11-ounce capacity is the most preferred size for guinea pigs; while the 13-ounce size is suitable for slightly larger pets.
Make sure the valve of the bottle is made of stainless steel material, which is usually rust resistant and pet-friendly.
Materials Used
Most water bottles for small pets are made of plastic, while a few are made of recycled glass material. It is the plastic bottles that raise concerns.
Researchers and the public already know the dangers of BPA. But the new water bottles you come across in the market may not be as safe as most pet parents assume.
They may not directly leach BPA, but a strong plastic taste can most certainly be traced in water stored in the new water bottles for small pets.
The chemicals that come out of the plastic material and into the water are always harmful for your guinea pigs. In most cases, these chemicals go unnoticed.
As a rule of thumb, you should avoid any plastic bottles that are not labeled BPA free. Such bottles may be leaking different chemicals at varying levels.
Some plastics may be safer than others, but none of them are 100% safe. In fact, clear plastic bottles are considered the worst.
Unfortunately, water bottle manufacturers have a tendency of using very dirty marketing strategies to boost their sales without considering the health of your little pal.
If you are not sure about the dangers of plastic bottles, you should consider investing in glass bottles (recycled glass bottles are normally affordable).
Attachments
One of the things that can make a water bottle extremely challenging to use is the attachment (what you use to install the bottle on your guinea pig cage).
The most effective attachments are normally nail-on or screw-on brackets. They provide a very secure installation that will not come out easily.
Some modern bottle design comes with suction rubbers for installing on glass surfaces. The less effective attachments are usually sprung hangers or metal clips.
Additional Features
You should also consider buying a bottle that comes with a lift-up or lift-off cap, which is great because it allows you to easily refill the tank without removing the entire bottle setup.
Another great feature is calibration. A calibrated bottle allows you to know the exact level of water you are giving your small furred friend in a day.
Final Thoughts
Our overall best design for your guinea pig is the Choco Nose Patented No Drip Bottle. It is made of BPA free plastic material that is safe for small pets.
This bottle has a mini-sized nozzle that is suitable and highly recommended for your guinea pigs, bunnies, hamsters, and ferrets.
It is also extremely easy to secure a bottle thanks to its nail-on bracket attachments. It is the perfect choice for wired cages.
Generally, a good quality bottle should be made of BPA free materials, has a small-sized nozzle, has a larger capacity, and it's easy to secure in a cage.