Last Updated on 01/23/2021 by Veronica Jones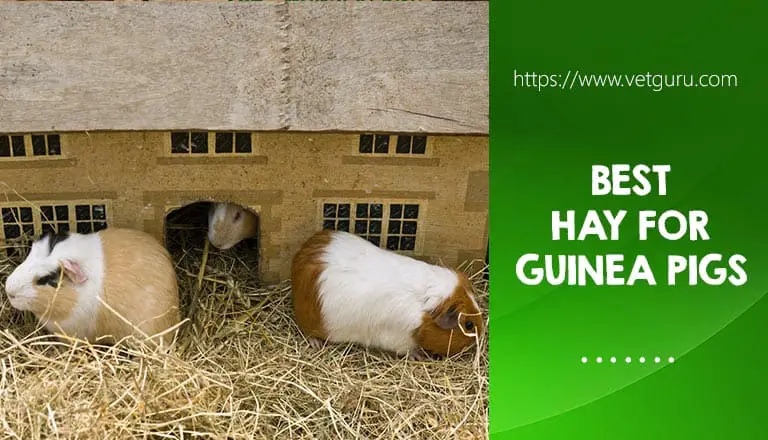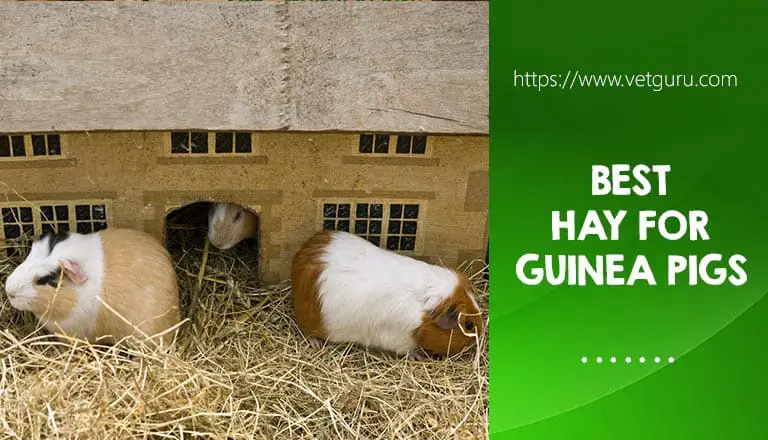 Guinea pigs! They are cute, right? But raising them is another story altogether. You have to feed them the ideal food for healthy growth.
Knowing the basic rules of guinea pig nutrition is a good start. Your little pal's health depends on how effective you are at choosing her diet.
Hay is the go to food for these lovely creatures. But you will be surprised by the many brands you will come to the market.
After hours of research, we managed to find five high-quality hay products for guinea pigs. These products come highly recommended by most pet parents.
Top 5 Hay for Guinea Pigs
#1. Kaytee Timothy Hay for Small Animals
Key Ingredients:
Sun-cured Timothy Hay
Dried Carrot
Kaytee provides optimal nutritional products that do a great job of nurturing and sustaining guinea pigs. This Kaytee Timothy Hay Diet was formulated to support optimal nutrition.
The ingredients in this dry feed are hand selected to make sure that there is a suitable ratio of leaf to stem. This ensures the fiber content is high for healthy digestion.
Timothy hay contained in this feed is not only readily available, but it also has a very pleasant taste and aroma that your guinea pigs will find hard to resist.
Dried carrots are super foods. They make sure your small furred friend gets good amounts of vitamin A and beta-carotene.
According to the guaranteed analysis, this feed provides your pet with a small amount of protein and a higher amount of fiber and moisture.
Feeding your guinea pig this food is easy, just place the ideal amount of hay in a bin or hopper. You can vary the amount depending on the size of your guinea pig.
Be rest assured that this meal will pull your pet out of its usual hiding spot, thanks to the carrot, cranberry, mango, marigold, and mint flavors.
Things We Like:
Handpicked ingredients are healthy
High fiber content boosts healthy digestion
Low calcium and protein supports urinary health
Dried carrots provide beta-carotene and vitamin A
Available in five different flavors
Things We Don't Like:
Possible to receive a package with hay dust
#2. Small Pet Select Timothy Hay
Key Ingredients:
This a hand selected premium second cutting Timothy hay nourishment that consists of a delicious ratio of the stem, seed head, and ratio.
It has the healthiest ratio of fat, protein, and fiber for a hale and hearty pet, which makes it the perfect silage for a picky guinea pig.
Unlike ordinary hay that's of low quality, this second cutting feed is a blend of first cutting and third cutting, making it the hearty food for adult guinea pigs.
The hay has a high amount of fiber for supporting good digestion. This ensures that your small furred friend does not suffer from digestive issues or GI stasis.
Apart from good digestion, the high fiber content in this hay boosts dental health. The hay ensures that the teeth are worn down properly.
The hay is usually soft, supple, and fragrant, which makes it the most ideal food for guinea pigs of all ages.
The package is super easy to open and close and the hay is less dusty compared to conventional products.
Things We Like:
Premium quality Timothy Hay is highly nutritious
Healthy ratio of fat, protein, and fiber
High fiber content helps with digestion and dental health
Hay is less dusty
Things We Don't Like:
Possible to receive a bag with mites
#3. Oxbow Western Timothy Hay
Key Ingredients:
Handpicked Timothy Hay
Contains high fiber and moisture content
Oxbow offers the highest quality hay for your guinea pigs. Their hay is harvested from their very special family of farms and delivered straight into Oxbow stands.
The Oxford Western Timothy Hay for guinea pigs is hand-sorted as well as hand-packed to ensure your small furred friend gets nothing but pure natural hay.
It contains seventy percent natural, quality hay, twenty percent fortified food, and five percent healthy greens and treats.
The feed is bursting with fiber that helps protect some of the most common health concerns in small mammals, such as GI stasis and other digestive problems.
This hay contains the ideal nourishment for boosting mental stimulation and enrichment without compromising nutrition.
One serving of this food will provide your small pet with thirty two percent fiber, fifteen percent moisture, and seven percent protein.
The analysis clearly shows that this food is low in protein and fat, but high in fiber and moisture for boosting overall health.
Things We Like:
Hand-sorted and hand-picked ingredients
High fiber content supports healthy digestion and dental health
Contains good nourishment for mental stimulation
Low protein, low fat, and low calorie content
Things We Don't Like
Some bags may contain dust
#4. Oxbow Animal Health Orchard Grass Hay
Key Ingredients:
Oxbow understands that quality of life starts with quality care, and that's why they produce this Animal Health Orchard Grass Hay.
Like all of Oxford's hay, the one included in this feed is hand selected as well as hand packed, which is great because it means it doesn't have dust.
It has a very unique aroma that delivers a sweet smell that your guinea pigs will love all day long. The fragrant aroma will most certainly stimulate their appetite and boost consumption.
What makes this food a great choice for your little herbivores is the ratio of nutrients in it. It contains 75% natural quality hay, 20% fortified food, and 5% hearty greens and treats.
The Orchard grass hay is a great source of fiber, which is great because it helps boost digestion and alleviate GI stasis and any other digestive issues.
You should expect this hay to last a while, depending on the size of your guinea pigs. For example, the 40-ounce bag can last ten days for a 5-pound guinea pig.
Things We Like:
Contains natural quality and fortified ingredients
Orchard grass hay is hand selected and hand picked
Has a sweet smell that stimulates appetite
Contains hearty greens and treats
High fiber content alleviates and prevents digestive issues
Things We Don't Like:
Some bags may contain plastic shreds
#5. Timothy Hay Flavor Variety Multi Pack
Key Ingredients:
The Timothy Hay Flavor Variety Multi Pack is the ideal grass diet for your guinea pigs, rabbits, chinchillas, as well as other small animals you may have.
The hay is hand selected by experts from the second cutting, which is great because this ensures there's a good ratio of leaf to stem for easy feeding.
If your guinea pig is 7+ months of age, the high fiber content in this natural feed is what it needs to maintain a healthy digestive system without GI stasis.
Unlike conventional grass hay, this one is low in protein and fat, and high in moisture and fiber, making it suitable for stimulating digestion and preventing obesity.
Are your guinea pigs fed up with the usual Orchard grass hay and alfalfa hay? You can easily transition to Timothy Hay Flavor Variety Multi Pack.
Things We Like:
Hand selected second cutting is highly nutritious
Proper leaf to stem ratio makes this a hearty feed
High fiber content supports chewing and healthy digestion
No artificial flavors, colors, or any harmful ingredients
Rich in essential nutrients and flavors
Low calcium and protein boost urinary health
Things We Don't Like:
Possible to receive a bag of hay that stale
Things to Consider Before Buying
Hay is a great product for your guinea pigs, but you have to choose a product that is not only nutritious but also safe for your little friend.
Types of Hay
So, there're a lot of different types of hay to choose for your guinea pigs. But pretty much any of them are okay as long as it is a grass-based hay.
You do not want any clover type or alfalfa hay for your senior guinea pigs because it is way too high in calcium and fat, which can cause obesity and other problems.
Here are the popular types of hay you can consider:
Timothy Hay
This is the most popular grass hay for guinea pigs. Why? Guinea pigs really like the sweet taste of this grass and perhaps more than any other grass type out there.
Your little friend loves this grass when it is soft, green, and fresh. You are guaranteed to see your small furred friend happily munching away her hay in no time at all.
Timothy hay is also super healthy in the sense that it provides your guinea pigs with lots of fiber and moisture, but less of fat, calcium, and protein.
Nature didn't equip guinea pigs to deal with a feed high in calories as well as fat and proteins. In actual fact, their entire digestive system is specifically adapted to processing high-fiber feeds.
Along with that, Timothy hay grass is also great for the dental health of your little furred friends. The grass helps their teeth to wear faster, creating room for new teeth.
Generally, if your guinea pigs spend lots of time chewing, they will be less susceptible to dental problems.
Orchard Hay
This is a great cool-season hay grass that is more drought resistant compared to Timothy hay. This product grows effectively in tufts.
Like Timothy hay, Orchard hay grass is also soft in texture, low in protein and high in fiber content. It tastes and smells sweet, your guinea pigs won't be able to resist.
This hay grass is usually packed in full long strand fibers, which is great because this combination ensures that your furred friend has a healthy digestive system.
This is a suitable choice for pet parents with hay allergies. The leaves are generally very long, soft, less dusty, and pleasant to pick up with your hands.
Meadow Hay
This product contains a mixture of naturally occurring hay grass, which is great because the mixture produces unique flavors and textures for your guinea pigs.
We cannot say this is true hay because it contains several hay types, which are combined in adequate proportions.
Unlike Timothy hay and Orchard hay, you cannot exactly tell the amounts of calcium and protein contained in Meadow hay.
Oat Hay
This hay type can be good on its own and in moderation or it is also great to combine with other grass hays.
When compared to the second cut and third cut Timothy hay, oat hay is a lot stiffer and resembles the stiffness of first cut hay.
This hay probably will not be very pleasing to a picky guinea pig. But it does have very mature seed heads and is exceptional for trimming down teeth.
Types of Cuts of Timothy Hay
As we earlier mentioned, Timothy hay is the go to grass for most guinea pigs. There are varieties of cuts of Timothy hay, including first, second, and third cuts.
The second cut is the most standard one. It has a great amount of fiber and just adequate protein. It contains a mixture of soft and stiff leaves and lots of seed heads.
The third cut Timothy hay is a softer cut. If you have a picky guinea pig that refuses the stiffer stems of the first and the second cut, the third cut may work for you.
It is also very leafy, but it contains slightly less fiber compared to the second cut. This is why it is recommended to mix it in some other hay types.
Final Thoughts
Our overall best choice is Kaytee Timothy Hay for Small Animals. This grass is hand selected, which means it has the ideal ratio of leaf to stem.
It is low in calcium, fat, and protein, but very rich in fiber. This product does not only support healthy digestion but also boosts dental health.
It is also available in five different flavors (carrot, mint, cranberry, marigold, and mango) just in case your guinea pig is picky.
Overall, you should aim for the second cut hay. It contains the ideal amounts of nutrients with lots of fiber for boosting digestion and dental health.