Last Updated on 01/23/2021 by Veronica Jones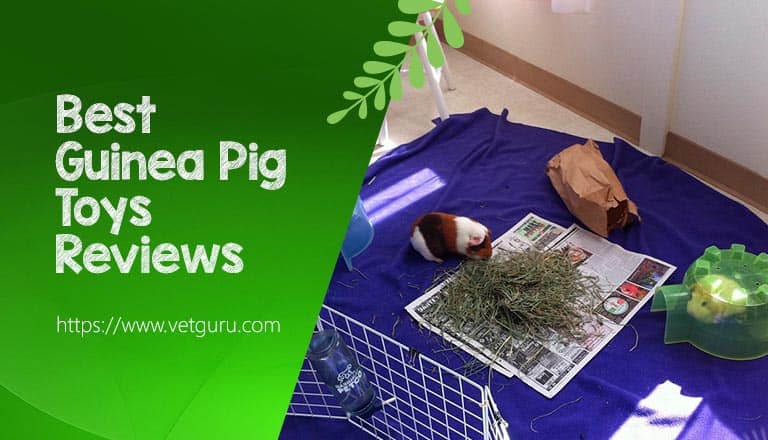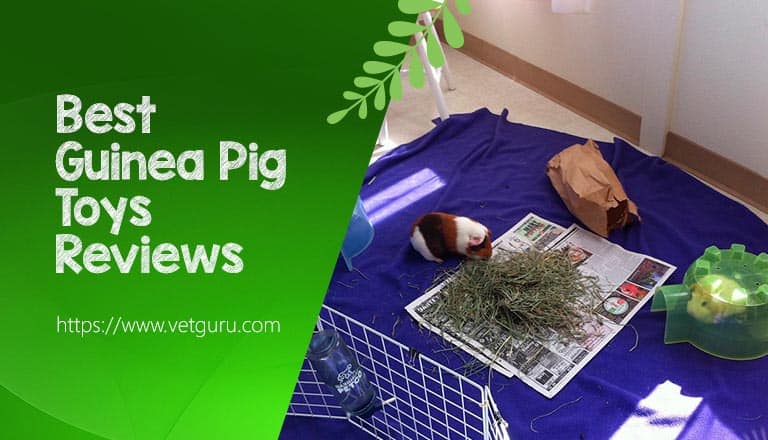 Guinea pigs are playful little creatures and have been known to play with pet parents and other small pets in the household.
A guinea pig will chase a toy, ball, bat, or pick up a paper plate and toss it around using the mouth. This is amazing, isn't it?
Given the guinea pig timid, prey-animal nature, it is advisable to provide the best and most entertaining toys for her to play with.
The market is full of all sorts of toys for small pets, but not all of them will be safe and charming for your guinea pig. As such, you have to be a very selective pet parent.
Here are our five recommendations that we believe your small furred friend will love to bounce around with all day long in her cage.
Top 5 Guinea Pig Toys for Cage
#1. Winni Guinea Poo Toys
Key Features:
Cute gift for guinea pigs
Made of natural and safe materials
Easy for pets to get used to and play
Winni Guinea Poo Toys great logic toy for small pets, including guinea pigs, chinchillas, and rabbits. It is a cute honey bucket for morning and evening pellets delivery.
It is made of natural materials, which is great because these materials are safe for your small furred friend to play with all day long.
This model has an impressive bucket design with an attractive lid that is super easy for your guinea pig to carry off the bucket.
The easy logic design is skillfully crafted, which is great because it helps your small furred friend learn how to play quicker than you would have expected.
The bucket design is great for scavenging, which does a great job of encouraging foraging as well as mental stimulation in your furred friend.
This is a charming gift for your guinea pig and you can spice up the surprise by putting treats in the jar for the little adorable friend to find.
Things We Like:
Suitable choice for guinea pigs, chinchillas, and rabbits
Natural materials are safe for small pets
Great gift idea for stuffing treats inside
Bucket design encourages foraging and mental stimulation
Things We Don't Like:
Doesn't have attractive colors or patterns
#2. Niteangel Small Animal Activity Toy
Key Features:
100 percent natural materials
No metal, plastic, or glue used
Extra deep base allows deep filling
Variety of materials used
Niteangel is specialized in pet supplies, providing your guinea pigs, sparrow, hummingbird, hedgehog, or chinchilla with cute playing balls.
The balls are made of different high quality materials, including rattan, water hyacinth, seagrass, and natural cornhusk. No artificial or chemical fibers used.
The materials are hand knitted and tied together with twine to create an all-natural tight guinea pig playing ball and pet toy.
The all-natural materials used to create these balls will not harm your small furred friend or the environment and its habitat.
The rattan, water hyacinth, sea grass, and natural cornhusk are all naturally biodegradable products that are much better compared to artificial or plastic toys.
What's so impressive about these balls is that they have extra deep bases, which is great because you can stuff litter for burrowing and tunneling.
Apart from filling the deep bases with litter, you can stuff the balls with lip-smacking greens, snacks, or treats.
Things We Like:
Made of naturally biodegradable materials
Water hyacinth, sea grass, and natural cornhusk are safe materials
Extra deep bases for burrowing and tunneling
Easy to stuff treats and snacks inside the balls
Things We Don't Like:
Loose strands may entangle your guinea pig
#3. Zalalova Hamster Chew Toys
Key Features:
Ten-pack wooden chew toys
Made of natural and non-toxic materials
Materials are MSDS approved
Have a beautiful and exquisite shape
Suitable for most small animals
In about three years' time, your guinea pig will be too old to play and have fun. So, why don't you get her the cute Zalalova Hamster Chew Toys now!
These toys are made of natural wood, which are selected first class materials. The wood was naturally sun dried in order to control the hydration rate.
The different pieces were polished repeatedly, which is great because the polishing produced smooth corners and edges that will not hurt your guinea pigs.
The complete pack provides your small furred friends with all the cute toys, including a rattan ball, watermelon balls, molar string, climbing ladder, seesaw, bell roller, bell swing, and squared molar block with rope.
The availability of many different toys makes this collection ideal for your guinea pigs, hamsters, birds, rats, gerbils, chinchillas, rabbits, and other small pets.
Your little pal will have the time of her life playing with the dumbbell, bell roller, rattan ball, and the square molar block with rope.
In fact, you can fill the rattan ball with sweet greens and hearty treats to help grab the attention of your small pet.
Things We Like:
Many toys in one pack
Naturally sourced materials are safe for small pets
MSDS approved parts are highly reliable
Easy for your little pal to learn all sorts for skills
Things We Don't Like:
Could be more attractive with colors and patterns
#4. Living World Hagen Pet Tunnel
Key Features:
Extension tunnel
Can be attached to a tent
Available in medium and large sizes
Folds up easily for storage
Your guinea pig can have fun all day long playing inside the Living World Hagen Pet Tunnel. The perfect design for nurturing tunneling and burrowing skills.
It is uniquely made for easy attachment to a Living World Tent, which is great because it provides your small pet with a special playing spot.
It can easily be attached to another extension tunnel (which is sold separately), providing your guinea pig with a long and comfortable hideout.
The long cylindrical structure of the tunnel is designed from a spiral wire frame that is covered with an easy to clean polyester fabric.
Installing the tunnel to a Living World Tent is super easy with the Velcro attachments at the far ends of the tunnel. There's also an opening in the middle for attaching a matching tunnel.
You can enhance its indoor and outdoor use by using corner ties to keep it secured to the ground. This helps to promote exploration and play.
Things We Like:
Available in medium and large sizes for preference
Can easily be attached to another tunnel or tent
Spiral wire frame used is safe and comfortable
Velcro attachments allow for easy ground installation
Promotes exploration and play
Things We Don't Like:
It may be shorter than you would have expected
#5. Hamiledyi Grass Mat Woven Toy
Key Features:
100% natural materials
Hand-woven design that's long-lasting
Perfect for digging and chewing
No chemicals or pigments, safe for small pets
The Hamiledyi Grass Mat Woven Toy is the perfect choice for juvenile and old guinea pigs. It provides the ideal playing spot for everyone.
It is hand woven from natural grass, which is great because the lawn is sustainable and suitable for your pet to dig and chew and she explores her habitat.
The heavy-duty design can take a lot of abuse from your guinea pig, but it will stand firm and durable for a reliable duration.
This mat toy can literally be installed anywhere, including guinea pig and rabbit cages. It can also be hanged as a hammock inside a cage.
Unlike conventional products, this mat toy does not contain pigments or chemicals. It features natural and pure grass, making it safer for digging and chewing.
Another impressive feature of this mat is the fact that it provides a cozy place to lazy around during the day. Your senior guinea pig will be happier.
Things We Like:
Hand woven design is highly sustainable
Highly durable, can withstand repeated use
No pigments or chemicals used in its creation
Offers a cozy spot for napping
Things We Don't Like:
May produce a bad smell if exposed to water
Things to Consider Before Buying
If you are an experienced small pet owner, then you understand how much guinea pigs enjoy playing. Your little pals need to stay occupied with interesting and safe toys.
Providing toys helps to get rid of boredom, which in turn keeps destructive and mischievous behaviors to a minimum.
Playing encourages exercise to help keep your guinea pig physically fit. You can always make toys at home, using simple accessories and materials.
But if you choose to buy from the market, you should consider the following:
Chewing, Digging, Burrowing, and Tunneling
Guinea pigs are well-known for their chewing, digging, burrowing, and tunneling expertise. In the wild, they chew a lot of herbage in their natural habitat, and some of it is usually tough.
Their built-in behaviors will not go away when you put them in a domestic setup. They remain as natural, normal manners.
If your domestically raised guinea pig is not provided with ways to chew and dig, she might exercise dangerous and destructive chewing and digging behaviors.
The idea here is to look for toys that will stimulate and enhance their natural behavior without resorting to dangerous and destructive chewing and digging.
Various toys that are made for guinea pigs can offer sustainable substrates for chewing. Entertaining and chewable toys will keep your small pets glued to their cage.
You might opt to buy toys that are chew resistant, but such toys will not be the most ideal ones in the long run.
Those little teeth were designed for chewing, burrowing, and digging. So, failure to put them to good use may result in significant dental problems.
Toy Varieties that are Suitable for Guinea Pigs
As we earlier mentioned, there are so many toys in today's market. In fact, the choices might overwhelm you. But it doesn't have to be a difficult proposition.
Here are the most popular toys that your guinea pig will not shy away from:
Rattan, water hyacinth, sea grass, or natural cornhusk ball
This is a good toy for keeping your pet active all day long. All these natural materials are sustainable. So, your guinea pig will always be chewing while playing and having fun.
These balls are good for stuffing treats and snacks. They also ensure your little furred friend stays in good shape.
Molar strings can be made of chewable wood or simply chewable treats, including dried fruits and palatable wood materials.
A ladder will help stimulate and improve the climbing skills of your small pet.
Squared molar block with rope
This is a unique toy that helps to stimulate as well as enhance various skills for your little pals.
This can create an adventurous game or exercise between two guinea pigs.
A grass hay mat is an all-rounded toy design that has multiple functions. Your pet can use it to dig and play around or transform it into a resting zone after eventful burrowing.
Made of natural and chemical free wood, a bell swing is an important addition to the cage of your guinea pig. This type of toy alleviates boredom and enhances activity levels. This ensures your small pet has a fun and interesting spot to play the whole day.
Usually made of non-toxic and harmless natural wood. This toy ensures your guinea pigs work out and play throughout. Your little pal will get more interested in the toy whenever she pushes it around the cage.
Final Thoughts
There are so many ways you can stimulate and enhance the chewing, digging, burrowing, and playing traits of your small furred friend.
Simple ideas for guinea pig toys may include: dumbbells, bell swings, grass hay mat, seesaw, climbing ladder, watermelon balls, and molar string.
Not all toys you buy will be loved by your small furred friend. So, it is always advisable to observe how your little friend interacts with the toy or toys.
Make sure you don't buy toys that have sharp edges or made of rough materials that may hurt your small pets. Also, try to avoid plastic toys that may contain harmful chemicals.