Last Updated on 08/20/2021 by Veronica Jones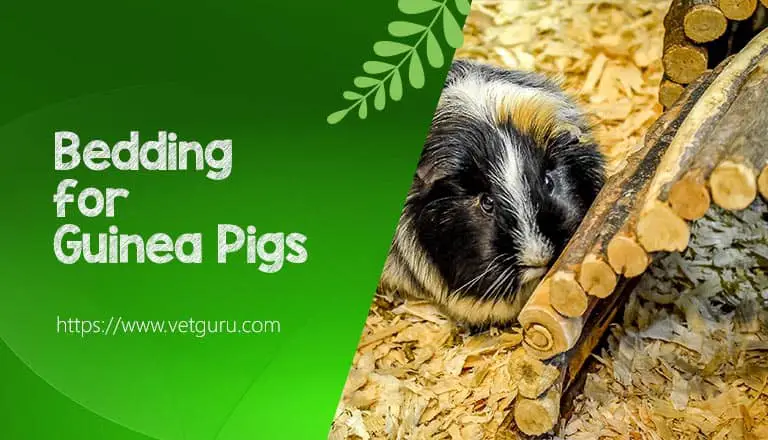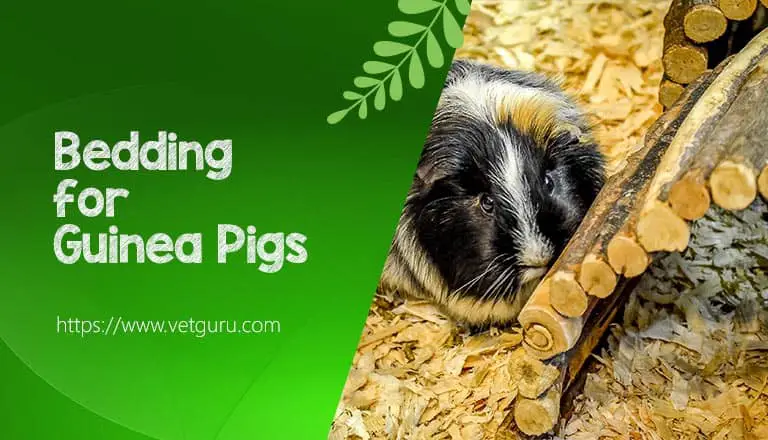 The choice of guinea pig beddings is huge in today's market, and not all pet parents can make a good selection. To make things easier, we thought we'd compile a list of what we feed are the best guinea pig bedding products on the market in 2021.
Here you will find our top five selections. We selected each bedding after testing several key metrics, including odor control, absorbency, and ease of cleaning.
Top 5 Best Guinea Pig Bedding
#1 Vitakraft Fresh World Bedding – Best Guinea Pig Bedding Overall
Introducing the Vitakraft Fresh World Bedding, the best guinea pig bedding (in our opinion).
This product helps you keep your pet happy and healthy. It keeps the living area of your guinea pigs dry, clean and super comfortable.
This super-soft bedding features an odor blocker formula that does a great job of absorbing moisture rapidly. This guarantees great odor control.
The Vitakraft bedding is made from 100 percent recycled paper material, which is free of harsh chemicals or bleach. It is compostable and biodegradable.
This product is practically dust and debris free. This eliminates the risk of respiratory complications for your pet.
Vitakraft is remarkably easy. All you have to do is spread about two to three inches of the product on the bottom of your guinea pigs' home.
However, you have will have to do regular spot cleaning to enhance odor control for as long as fourteen days.
You will have to change the bedding whenever the odor blocker formula fails to eliminate the stink or when the litter is damp.
What We Like:
American made and genuine product
Recycled paper material is compostable and biodegradable
Dust-free litter reduces the risk of respiratory complications
Odor blocker formula offers great odor control
Absorbs moisture rapidly, keeping your pets dry and clean
It is free of baking soda or bleach
Easy application
What We Didn't Like:
Possible to receive an expired bag
#2 Kaytee Soft Granule Blend Bedding – Best Wood Fiber Litter
For over 150 years Kaytee has been nourishing the incredible connection between people and their pets. The brand's most innovative product is the Kaytee Soft Granule Blend Bedding.
Kaytee Soft Granule Blend Litter does not contain by-products, baking soda, bleach or harmful chemicals that would affect the health of your guinea pigs.
It is made of recycled wood fibers, which are not just biodegradable but also compostable. This makes the Kaytee formula environmental friendly.
The softwood fibers found in this formula are highly absorbent. They are capable of absorbing three times the weight in a liquid.
Are your pets allergic to dust? The Kaytee formula offers you a 99.9 percent dust-free litter that reduces the risk of respiratory issues.
Easy application, just covers the floor with one to three inches of the loose product. Make sure you don't apply too much, to reduce the chance of your pets consuming the litter.
To maintain effective odor control and moisture absorption, you have to clean the habitat at least once a week. A thorough cleaning of the sleeping area is recommended.
What We Like:
Proudly American Made and genuine
Made of recycled wood fibers
Litter is biodegradable and compostable
Wood fibers are highly moisture absorbent
99.9 percent of dust-free prevents respiratory problems
Doesn't contain by-products or harmful chemicals
What We Didn't Like:
The litter is a little bit static
#3 GuineaDad Fleece Liner – Best Bamboo Fiber Bedding
If you are looking for a patented healthy bedding choice that is made from premium material, you should look no further than the Guineadad Liner.
It is made of bamboo fiber that is 100 percent biodegradable, which means it is ecologically and environmentally friendly.
The absorbency properties of this fleece liner are amazing. It can effectively absorb three times its weight in liquid, such as water.
It takes moisture away from the fleece layer to ensure your little friend is dry, clean and comfortable. The dry habitat prevents the occurrence of bumblefoot.
The liner is naturally odor-resistant, anti-microbial, anti-fungal, and anti-bacterial. This ensures your pets don't acquire bacteria-related illnesses or respiratory problems.
The fleece has a diamond pattern that helps to prevent the mid-section absorbent sheets from shifting. Also, you can set up the burrow pocket for your guinea pig to explore.
You can maintain the cleanliness of the liner by spot cleaning it daily. Use a dustpan and a brush to remove soiled hay and poop.
In addition to spot cleaning, you can machine wash cold. But use unscented detergent and distilled white vinegar when rinsing.
What We Like:
Available in six different colors for preference
Made of biodegradable bamboo fiber
Naturally odor-resistant, anti-microbial, anti-bacterial, and antifungal
Can be used as a waterproof back
Diamond pattern on the fleece enhances absorbent features
Has a burrow pocket for guinea pigs to explore
What We Didn't Like:
It does not rip resistant
#4 MYIDEA Warm Guinea Pigs Bed – Best Cotton Bedding
Introducing the world's best cotton nest for your small animals. The MYIDEA Warm Guinea Pigs Bed offers your pets a cozy and comfortable habitat.
This unique pet nest comes in different attractive colors that your guinea pigs will admire, including red elk, giraffe, pink pig, bee, crocodile, and a tiger to mention a few.
Made from high-quality cotton filling that is environmentally friendly and hypoallergenic. This material is dust-free, preventing respiratory issues.
The nest is integrated with a high-density elastic sponge for unlimited elasticity and comfort. You also get a zippered cushion that is removable.
The inside of the next is equipped with a drip plastic cloth bottom that is dirt resistant, moisture-proof and anti-skid.
It is one of the easiest beddings to wash because it is made of cloth material. Just throw it in the washer and then the dryer.
What We Like:
Comes with high quality and biodegradable cotton filling
The high-density elastic sponge is cozy and comfortable
Drip plastic cloth bottom is dirt resistant, waterproof and anti-skid
Numerous colors and patterns to choose from
Easy to clean design is machine washable
Ideal for all kinds of small pets
What We Didn't Like:
May be small fitting for adult guinea pigs
#5 Kaytee Clean & Cozy Bedding – Best Colorful Litter
The Kaytee Clean & Cozy is different than any other wood-based or paper small animal bedding you will come across on the market.
This product is available in birthday cake, apple orchard, blue, frozen fun, purple, aspen, and multi-color patterns for preference.
The frozen fun pattern is of great value and perfect for pet parents who like to spot clean the habitat. Soiled bedding is easy to see on frozen fun.
This litter is great for those who want a more natural-appearing habitat. The colorful litter adds variety to any habitat and it's attractive to the eyes.
The long recycled fiber threads that make this litter have superior absorbency. It absorbs all the moisture, keeping your small pets dry, clean and cozy.
The fluffy and soft texture of the bedding is ideal for burrowing. Your guinea pigs have all the room they need to burrow all day long.
The recycled fiber strands are also 99.9 percent dust-free. This ensures that your pets are free of any respiratory problems.
What We Like:
Available in multiple color/pattern options
Frozen fun pattern is suitable for spot cleaning
Recycled fiber strands are highly absorbent
Fluffy and soft texture allows for burrowing
It is 99.9 percent dust-free, preventing respiratory issues
What We Didn't Like:
Could be better with superior odor control
How to choose the best guinea pig bedding for your pet
The ideal bedding for guinea pigs needs to have a soft texture for burrowing, which is one of the things they like doing in their natural habitat.
In addition to burrowing, your small pet needs an environment that is clean and healthy. Here are the main buying points you have to consider.
Type of Material
There are various materials to choose from, including recycled paper, recycled wood fiber, bamboo fiber, and cotton filling to mention a few.
Paper bedding is generally preferable; although, paper litters tend to be more expensive compared to wood fiber.
Absorbency
It doesn't matter what type of bedding material you choose, one of the most important features to look for is moisture absorbency.
When comparing the various materials, the recycled paper was three times more absorbent than other materials, such as cotton filling and wood fiber.
Less moisture in your pet's habitat means fewer messes, reduced risk of bumblefoot, and very comfortable and cozy home.
Reduced Risk of Disease
Several things will ensure your guinea pigs are not exposed to the risk of acquiring the disease, including dust-free, anti-microbial, antifungal, anti-bacterial.
All manufacturers claim their products are dust-free. This was quite tricky for us, and we had to test each product individually to prove the claims.
Our overall best material with exceptional dust-free properties was recycled paper. This material is highly breathable, and we could see the guinea pigs breathing easily.
Burrowing Properties
There is no better way of stimulating the burrowing instinct of your guinea pigs than using fluffy, soft bedding.
Burrowing is guinea pigs' natural way of hiding from danger and a place to sleep and dream. The burrow becomes their home, a place of safety.
Material that has the best burrowing properties is recycled paper. It is soft, easy to dig in and does not impede breathing.
Odor Control
Odor control is of utmost importance. Good smelling habitat is good for both you and your small pets.
High-quality litter, such as our top pick, is integrated with an odor blocker formula that eliminates any odors and reduces the risk of respiratory problems.
Odor control goes hand in hand with moisture absorbency. A dry, clean habitat is usually odor-free and very comfortable.
If a natural fragrance isn't enough for you, you can consider buying scented small pet bedding. But scented litters are normally not recommended.
Fun Colors and Patterns
Most paper and wood fiber beddings feature fun colors and patterns. Some of the most popular colors include white, purple, blue, and multi-color/pattern to mention a few.
The white color is always suitable for pet parents who like to spot clean instead of removing the entire litter. All messes are visible in white color.
It is also easy to spot the movements of your guinea pigs in white and other visible colors or patterns, especially when the animals are burrowing.
Final Thoughts
After testing several features, such as odor control, absorbency, and burrowing instinct, we feel confident recommending the Vitakraft as the overall best bedding for your guinea pigs.
With a remarkable odor blocker formula, superior moisture absorbance, fluffy and soft texture, and dust-free nature, this litter effectively reduces the risk of respiratory problems.
Its performance was above reproach, including the fact that it lasted up to fourteen days before a change was necessary.
With that said, it is clear that the comfort of your small pets depends on each factor you take into consideration during your selection process.