Last Updated on 01/23/2021 by Veronica Jones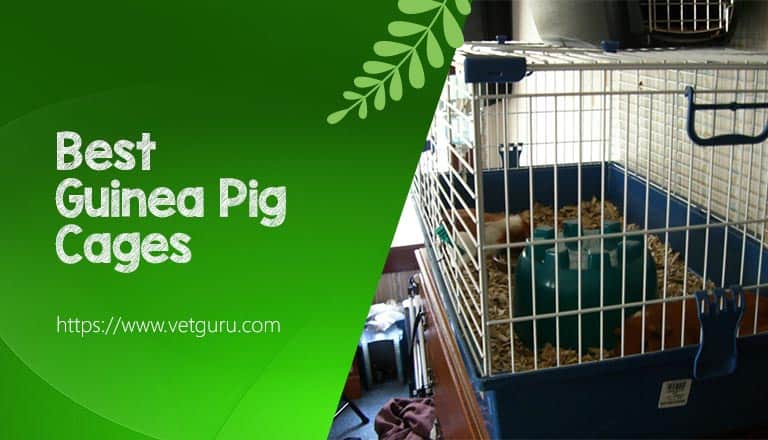 Guinea pigs are great pets, especially for children. They are not too hard to take care of and they are literally just staying inside their cages.
If you want your children to learn how to take care of pets, you can start with guinea pigs before you proceed with dogs or cats.
If you are going to buy guinea pigs, you need to look for the best cages for your guinea pig.
You cannot simply put them in a box or just let them loose inside the house. They are not like dogs and cats that would remember where they leave.
Here are some of the guinea pig cages that you can consider.
Top 8 Best Guinea Pig Cages
If you think that you can just use any type of cage for your guinea pigs, you are making a mistake.
The cage and the environment can help improve the health of your pets.
Let's check out some of the best cages that you can buy right now.
1. Midwest Guinea Pig Cage
Midwest Homes for Pets is a very popular store that offers different kinds of cages and other products for pets.
The Midwest Guinea Pig Cage is one of its most amazing products and is also very popular for different customers around the globe.
The Midwest Guinea Pig Cage is about eight square feet and it provides enough space for your guinea pigs to roam around and play.
It is also recommended by Breeders and Veterinarians because it is made from great quality materials and it is spacious enough for your guinea pigs.
It features a fully removable mesh that is installed to protect your pets. The mesh is made to prevent predators from harming your guinea pigs.
The cage is also divided into two parts: play and care areas. There are a multi-access top and divider panel along with a hinged lock to separate the two parts.
The cage itself is extremely durable, washable, leak-proof and it has removable PVC canvas that you can easily remove.
The canvas at the bottom will help you clean and maintain the cage and it provides protection and traction for the feet of your guinea pigs.
The cage is 14 inches high and it provides convenient access to the Guinea pigs, especially when feeding them.
It can also be used for indoor and outdoor use as it is very sturdy. You don't need any special tools for assembly and you can assemble it within minutes.
2. Guinea Habitat Guinea Pig Cage Plus by Midwest
The Midwest Guinea Pig Cage Plus includes all of the features of the Midwest Guinea Habitat described above, but comes with the addition of a removable lid and a cage divider with canvas ramp covers made of the same material as the base of the cage.
The removable flip top lid is handy, as you can use it indoors to help prevent other pets or small children from readily gaining access to the cage, or you can use it outdoors with the fencing to provide a more predator proof outdoor run for guinea pigs while keeping them in a secure area with the base of the cage removed.
The divider can be useful when you have more than one Guinea Habitat cage set up side by side, but keep in mind we feel this detracts from the idea of open, uninterrupted running space when left in a single cage.
In a double wide cage, it provides a tidy place to keep hay so you can section off a "kitchen" area for your guinea pigs, or it can be used in a pinch to provide a divider between two guinea pigs who are not getting along or who need to be temporarily divided for another reason.
3. Living World Deluxe Habitat
Living World Deluxe Habitat is a popular choice because it comes in different sizes.
Many people are using it simply because it is extremely big and it can accommodate a lot of guinea pigs. Since you can choose a size, it is easy to determine what type of cage you have to use.
This is actually a hybrid cage with an upper wireframe. It also has a plastic bottom base that would offer a safe and well-ventilated place for these small pets.
The plastic bottom base enables you to effortlessly clean the cage. The upper wireframe provides solid security for the pets inside and it would prevent the predators from killing or harming your pets.
This product comes with a balcony that contains an access ramp and food dish that is tip proof so your pets won't accidentally spill the food that you give them.
These cages have to be kept dry and cleaned regularly and make sure that the pet is always healthy and happy.
If you are looking for a large cage that can accommodate multiple guinea pigs, this is the right choice for you.
4. Kaytee Complete Guinea Pig Kit
Kaytee Complete Guinea Pig Kit is the simplest guinea pig cage that you can find right now and it also very popular since it is cheaper and it provides all of the basic requirements that you need from the cage.
The main reason why this guinea pig cage is popular is that it provides a secure environment for your pets.
Guinea pigs are very susceptible and they are mostly at the bottom of the food chain so they are very prone to be harmed or eaten.
If there are cats in your neighborhood, they will surely be harmed if you don't have a solid cage.
This cage is also very easy to clean because of it's deep scatters less base. It can be removed and you can also replace it fast.
The scatter less base can be cleaned very fast and you don't need to scrub it hard as well.
As for the assembly, it doesn't require any tools and you can do it with minimal effort.
5. Prevue Pet Small Animal Home on Stand
Prevue Pet Small Animal Home on Stand is a great choice if you prefer a cage that can stand on its own.
It means you won't have to put it on a table since it already has its own stand.
It is on top of a heavy-duty tubular stand. The stand is made of steel and it has a plastic base.
The plastic base will enable you to clean it easily. You won't have to scrub it thoroughly and you can just use water to clean it.
The product contains a ramp and a platform. However, this cage is only made for 1 or 2 guinea pigs since it is not too big to accommodate more.
It has an extra deep pan that will contain all the dirt released by your pets.
6. Prevue Pet Products Small Animal Tubby Cage
The Prevue Pet Products Tubby Cage is a no frills cage for guinea pigs that consists of a deep plastic base and a wire top.
This cage is simple and functions well, assembly takes less than ten minutes to fold the wire top together and add plastic clips to hold the top to the base.
Don't expect to lift the cage by the wire top even with the plastic clips, they will keep your guinea pig from unseating the top but won't bear a lot of weight themselves.
The pan is extra deep at 6-1/2″ and will really help keep the bedding inside your guinea pig's cage and off of your floor.
There is a matching stand available for this cage, but you might have to special order it from Prevue Hendryx as it's not readily carried online or in pet stores.
7. Super Pet My First Home for Rabbits
The Super Pet My First Home Rabbit Habitat is a sturdy, well built cage that provides a much better environment for guinea pigs than rabbits.
The deep plastic pan keeps bedding cleanly in place, and the generously sized front door and top door provide easy access to all of the areas of your guinea pig's cage.
The optional shelf can provide a fun lookout area for your guinea pig, and the optional ramp is textured to help your guinea pigs get up and down safely between levels.
The four casters this cage sit on are rather small considering the size of the cage they are supporting, but will stand up to general wear and tear in most households or can be removed to allow the cage to sit securely on a table top.
8. Kaytee Large Guinea Pig Habitat with Stand
Another product from Kaytee managed to make it on the list and this cage has a stand as well.
It is popular for those who are looking for a cheaper alternative withstand.
This is another small product by Kaytee and it is made only for one guinea pig. You cannot put 2 of them inside as it is very small.
It has rounded corners to help you clean it effortlessly. It also has a safety ramp, a comfort shelf and a food dish for your pet.
The top is spring-loaded and the front doors can provide easy access and proper security as well. It is extremely durable, safe and comfortable for your pets.
How to Choose the Best Guinea Pig Cage
When you are already certain that you want to take care of guinea pigs, the next step is to know what to look for in a cage.
Cages are different from each other and they all have specific features. Here are some of the things that you have to learn.
1. Size of the Cage
Before you buy a cage, you should first know which size you are going to buy.
It's not a problem to go for the biggest size immediately even if you only have a single guinea pig. However, the problem would depend on your current budget.
As for the size, more guinea pigs would mean a bigger cage.
You can just make an assumption based on the number of guinea pigs that you are going to buy.
You have to remember that the pets should have enough space to move around inside the cage.
They won't be happy if the cage is too cramp and they don't have enough space to play.
You will need a cage that provides at least 7.5 square feet of flat open space for 1-2 guinea pigs, with an additional 1.5 square feet of flat open running space for each additional guinea pig in the same habitat.
Flat open running space means an open square or rectangular area that is uninterrupted by ramps, walls or other connections to additional areas.
2. Material
If you invest in a good quality cage, your cage will last for the entire lifetime of your pet guinea pigs and with good care can be used for many more years if you continue to keep pet guinea pigs.
Look for a cage that has sturdy plastic if you are choosing a cage with a plastic pan, as you will be able to scrub or bleach the pan without worrying about it cracking.
It is more ideal to look for the metal cage components to be powder coated or PVC coated, which will protect the metal from rusting.
Keep in mind that PVC coated cages are susceptible to the finish wearing or cracking, but they will last much longer than a galvanized metal cage with no treatment applied.
Some guinea pig cages are made with canvas or tent-like material for the base, and will likely need to have the base replaced once or twice during your guinea pig's lifetime.
Home made cages made with coroplast may last for years if cleaned diligently and if the guinea pigs don't chew the edges, but expect to replace them at least once as well.
3. The bar spacing
In general, guinea pig cages have 1″ bar spacing that usually consists of many vertical or horizontal bars with large rectangular spacing between them.
Baby guinea pigs under two months of age may be small enough to squeeze between this space, so a cage with a deeper pan that is too high for the babies to walk out of will help keep your guinea pigs securely inside until they are large enough to reach the bars and not be able to squeeze out at the same time.
4. Easy to Clean
You have to look for a cage that is very easy to clean as it would provide more convenience to you. if you don't have a lot of time, this is a very important thing to consider.
You can look for a plastic base with rounded edges as it makes it easier for you to clean the cage.
The one with edges can also be a good choice, but they are usually harder to clean compared with the ones with round edges.
Conclusion
Taking care of guinea pigs is definitely easier compared with other pets and it will allow you to relax and have peace at the same time.
Buying a cage can be a bit complicated if you don't know anything, but if you read all the important facts in this article, it will provide you the information that you need to buy the best one.
Take your time and check every one of the features of the cages before you decide.