Last Updated on 05/21/2021 by Veronica Jones
Teddy bear hamsters are excellent pets for both new and experienced pet owners to have. However, hamsters cannot roam around the home, so they need their own pet cage to stay safe, play, eat, sleep, etc. 
Many new pet owners often buy the wrong kind of cages for their new teddy bear (syrian) hamster. The wrong cage can make a hamster get hurt, be unhappy, get stressed, etc. Luckily, there are many great tips that pet owners can follow to select the best cage for their little furry friends. 
Here is a complete buying guide to help hamster owners choose the best teddy bear hamster cage.
The Best Teddy Bear Hamster Cages: Our Top Picks
Each of these five hamster cages would make an excellent teddy bear hamster cage. They have great qualities that make great cages for teddy bear hamsters. However, the cages are not one-size-fits-all. Each cage has unique features, different sizes, varying number of doors, etc. 
Every hamster will have slightly different personalities. For instance, some will love to hide, some love to run, some love to climb and more. Moreover, they will have different price tags that can impact a pet owner's choice. Therefore, it is crucial to take a quick look at the pros and cons of each cage to find the best one. 
Prevue Pet Products 528 Universal Small Animal Home – Best for Basic Needs
This cage is pretty basic, but it is a great cage for pet owners that want good quality cages. It is easy to set up, and it can last hamster owners for years. Plus, it is good for people who already have lots of hamster accessories, so they can reuse them in this cage.
This cage has measurements of 32 ½'' x 19'' x 17 ½'', meaning there is more than enough room for one hamster. It can easily home two friendly hamsters. The cage has a large platform with a ramp that lets hamster owners move the platform to make room for more accessories. The bars are spaced well so the hamsters can easily climb without escaping. This cage is heavy-duty because it is made out of wire construction and sturdy plastic, so pet owners can reuse this cage for years. There is a large opening on the side and on the top of the cage for easy access. It is pretty easy to clean the bottom of the cage, but it might be difficult to clean under the platform. Moreover, there is only one safety clip on the front door which can worry some hamster owners if their hammies are prone to escaping.
Overall, this is a great and huge cage for one or two small hamsters, especially if they have tons of accessories for their hammies. It may lack a bit of safety because there is one front clip on the door, but it is a great teddy bear hamster cage otherwise.
Pros 
Fits 1 big hamster/2 small hamsters
Easy to clean bottom
Sturdy and heavy-duty material
Easy for hamsters to climb the cage
Cons
1 safety clip on the front door
Favola Hamster Cage – Best for Easy Cleaning
This hamster cage is great for pet owners that want a simple and modular design. It has a clean look, and the basic accessories that a hamster needs. It is excellent for new hamster owners that do not have a cage wheel, water bottle, etc. Plus, it is great for easy cleanup.
Pet owners can easily watch their hamsters because this has a large plastic base. This cage has two floors, which lets hamsters do different activities in different parts of the cage. It is a great way to make a hamster happy and have lots of space. It conveniently comes with a water bottle, wheel, nesting area and a feeding bowl, which is great for newbies. The cage has a deep pan that is perfect for putting tons of bedding so that hamsters can burrow easily. Plus, there is a port located on the side of the cage for pet owners to attach tubes. The ladder and floor are safe enough for a teddy hamster to walk and climb.  The top door also comes with a security hook for extra security. However, the front door is very small, so pet owners have to open the top door frequently for basic tasks. 
This cage is excellent for people who want neat cage designs with basic accessories for their hammies. It is fairly versatile, but the side door is quite small compared to the top door. The side door size can make it difficult for pet owners to replace food, refill water, etc.
Pros 
Can fit 1 teddy bear hamster
100% visibility because of the plastic base
Simple design with accessories 
Easy to clean
Cons
Kaytee My First Home – Best Multi-Level Home
Active hammies will love this hamster cage for its unique features. It is a multi-level cage that can fit 2 hamsters comfortably while fitting in some accessories. It has different platforms for hamsters to have many places to do activities. Hamsters that love to climb will love this cage.
This is a huge multi-level cage, measuring at about 30.5″ x 18″ deep x 30″. The cage can easily house 2 big Syrian hamsters, so it can definitely be a big home for 2 teddy bear hamsters. The cage has three platforms and a big bottom pan to fill with bedding. The platforms have wide ladders so hammies will not bump into each other while going up and down the ladders. The bar spacing is about ½ inch, making it a great size for hamsters to climb and exercise. It is made out of high-quality metal and plastic so it can last pet owners for many years. However, it can be a bit difficult to put together and it has a small front door. Pet owners would also have to fully remove all the parts of the cage to clean it. Therefore, it can be a bit tedious to keep clean. 
Energetic hammies that love climbing will love this multi-level cage. Made out of high-quality materials, it is a good huge cage. However, it has a tiny front door and it requires disassembly to clean, which can be tedious. It is also a bit hard to set up when pet owners first get it.
Pros 
Very large size to fit 2 hamsters
3 platforms for more space
Sturdy plastic and wire
There are no grates
Cons
Require some disassembly to clean
Savic Hamster Heaven Metro Cage – Best for the Most Accessories
Pet owners that want a classic-looking and fun hamster cage can opt for this one. It comes with tons of access and features to keep a hamster entertained. It is a great choice for people who do not have any hamster accessories because it has many extra items.
The hamster cage contains small huts, food bowls, tubes, a water bottle, a wheel and more, making it an excellent choice for newbie hamster owners. The hamster cage is 31.5" x 20" x 20" to comfortably home 1 teddy bear hamster. The base of the cage is deep enough to contain lots of bedding and makes it more difficult for a hamster to kick bedding out of the cage. There are tons of holes in this cage for ventilation, making it an excellent choice for people in warmer climates. Pet owners can move the cage easily thanks to handles on the sides of the cage. The wired parts of the cage are sturdy, and the plastic parts are strong. However, the ramps do not have ridges or cover for traction, so it can be difficult for some hamsters. Moreover, this product is more expensive because of all the extra accessories.
Pet owners that do not want to buy accessories can choose this cage to have tons of accessories and a cage in one purchase. The cage can easily be a home for one chubby hamster. However, it is a bit expensive compared to buying a bare cage and separate accessories. 
Pros 
Can fit 1 teddy bear hamster
Has lots of accessories
Lots of ventilation for warmer climates
Easy to move thanks to side handles
Cons
Midwest Critterville Arcade Hamster Cage – Best for Unique Design
Hammy owners that want a truly unique cage that stands out ought to take a look at this cage. It is definitely not an ordinary hamster cage. This fun cage looks like an arcade for hamsters, and pet owners can easily watch their hamsters do different things throughout the day. 
This cage has multiple levels to offer hamsters more activity areas without taking up too much space. The cage is smaller than the others, measuring at about 8.11" x 11.61" x 21.26". However, the cage takes advantage of the fact that it has several levels. The upper level features a unique play area for hamsters that has an exercise wheel and a small hideout. The lower level has a big base pan for lots of bedding. The cage also has other accessories like a water bottle, food bowl, play tubes, etc. Hammies that love to climb can easily do so in this cage because it has ½ inch bar spacing. Moreover, the ramps have ridges and are angled appropriately for traction. However, it is difficult to set up and clean the cage because of the unique design. Some pet owners disassemble the whole cage to clean it.
The cage is excellent for pet owners that want compact, fun designs without compromising their hamster's happiness. It comes with some accessories to help new hamster owners get started. However, it is difficult to assemble and clean because of its unique design, and disassembling it would make it easier to clean.
Pros 
Can only fit 1 teddy bear hamster
Compact and has multiple levels
Has basic accessories and huts 
Ridges on the ramps for traction
Cons
Difficult to clean, assemble and disassemble
Choosing the Best Teddy Bear Hamster Guide – Our Buying Guide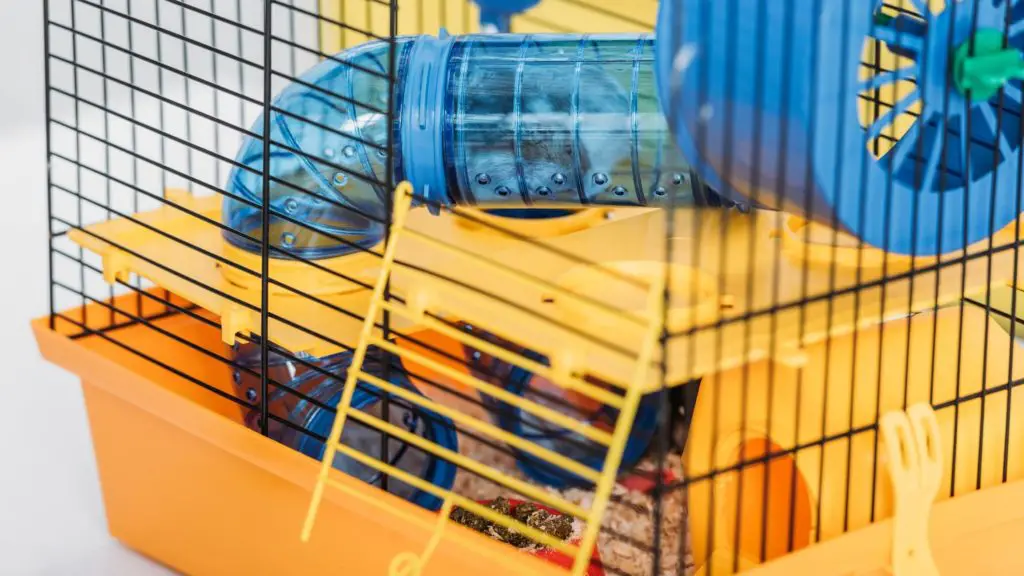 Looking at the best hamster cages is not enough. Even if it is the best cage with a lot of reviews, that does not mean the cage is perfect for every hamster. The wrong cage can make a hamster stressed, sick, etc. Pet owners need to look carefully at each feature to know exactly what would suit their hamster's needs and personality.  However, there are some general tips that hammy owners should follow to purchase the best cage for their teddy bear hamsters. That way, hammy owners can choose the ideal cage to make their small and furry friends happy.
Easy to Clean
Hamster owners need to remove some dirty bedding every day. They also need to replace the bedding completely and clean the cage once a week to keep their hamsters healthy. Therefore, hamster owners will open their cages a lot, so it needs to be easy to clean. It can be fun to choose unique, intricate cage designs for a hamster cage. However, that can make it difficult to access the hammy's bedding. The more complicated cage designs often need to get disassembled to be cleaned properly.
Therefore, it is important to choose a design that is easy to clean. Typically, a hamster cage should have a door on the top and side. Avoid cage designs that only have one door on the side. The cage door should also be large enough for a person's hand to go through whenever necessary. That way, it will be easy for pet owners to clean whenever needed. Moreover, a cage with a big base pan would be ideal so hamsters will be less likely to kick out their bedding.
Basic wire and plastic cages are usually fairly easy to clean. However, it can be more tedious to clean if there are many tubes, platforms, etc. However, cheap plastic base pans could absorb smells, especially if it is not cleaned quickly. Cheap wire also could rust if it is humid, gets wet, etc. Aquariums and glass-type cages are usually very easy to clean, but it can be difficult to handle glass during the cage cleaning time. A good cage for easy cleaning is the Favola Hamster Cage because it has a big top door.
Safety and Security
A hamster will spend the majority of its life in the hamster cage. Therefore, the hamster cage should be safe and secure for them to stay inside all of the time. Examine the hamster cage carefully. The bar spaces should be big enough for a hamster to grab and climb, but small enough so a hamster will not slip out. The bar spacing should be ½ inch or smaller. Bar spacing larger than ½ inch runs the risk of a hamster slipping out of the cage. 
Moreover, it is crucial that the cage is secure with good locks. Hamsters are very smart, and they can easily unlatch basic and weak locks. Therefore, the cage should have a hard-to-open lock. Pet owners may add extra latches to the doors to ensure further safety. 
The features of the cage should also be examined carefully for a hamster's safety. If there are ramps and ladders in the cage, it should have ridges. Additionally, it should be aligned well so a hamster can easily climb up and down when they want. That way, they will avoid slipping down the ladder and ramps. It is also important to make sure that no wires or sharp pieces stick out because a hamster can get wounded from sharp materials.
The Heaven Metro Cage has two clips on the big front door, so it would be more difficult for a hamster to unclip them. The ramps and slides in the Heaven Metro Cage are angled properly so a hamster can easily go up or slide down them. 
Chew Proof
Teddy bear hamsters are notorious chewers, and they will chew their cage if they can. Wire and plastic cages are popular and affordable, but a teddy bear hamster will easily try to bite the wire (especially if they lack things to do or chew on). A cheap cage may have low-quality wires that easily break. If a wire breaks because a hamster chews it, it could harm the hamster's mouth. There is also a chance that the hamster will try to consume the broken wire. Some hamsters will also try to gnaw on the plastic base pans if they are bored.
Glass-type cages are the best way to prevent a hamster from chewing the cage wire. However, it will not stop their need to chew. A hamster would still require lots of chew toys and other accessories to stay entertained. Moreover, lots of toys and accessories in the cage prevent a teddy bear hamster from chewing the cage. 
However, pet owners can still get wire and plastic cages. They just need to be sure that they get the right kind. For instance, the Kaytee My First Home wired cage features chew-proof wire. Therefore, a hamster can chew on the wire without breaking it or harming itself! Plus, the Kaytee My First Home cage also has heavy-duty plastic, making it difficult for hamsters to chew on the plastic as well. 
The Best Teddy Bear Hamster Cage – Frequently Asked Questions
What Is the Best Cage Size for a Teddy Bear Hamster?
The minimum size for a teddy's hamster cage should be about 12 inches tall, and 24 by 12 inches wide. This size is the minimum amount for most hamsters, but it can only fit one hamster, especially if they are very active like teddy bear hamsters. If a pet owner wants to put two bonded hamsters in one cage, the cage needs to be at least twice that size. However, it is always best to get the biggest cage possible to make a hamster happy.
What Cage Material Is Best for Teddy Bear Hamsters?
The cage material is mostly up to preference and climate. Plastic cages with wire construction is a go-to choice for most people, especially because they are cheap and let air in, but they do not always last for a long time. Glass and steel cages can last longer. However, glass can become too hot for hammies in warm climates, and steel can get rusty. 
Do Hamsters Need to Climb the Cages?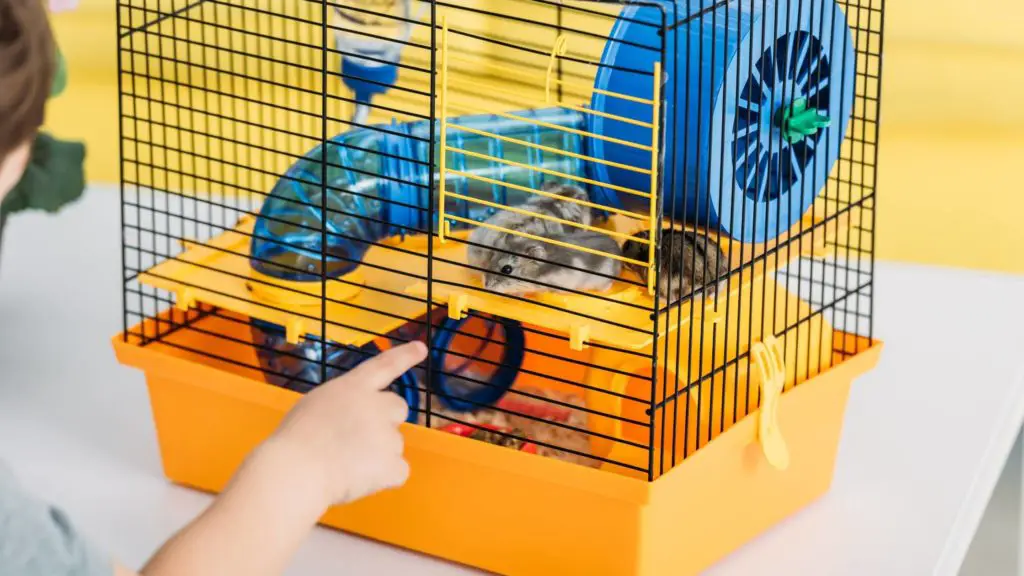 It mostly depends on the hamster. Not all hamsters are the same, so one hammy may not be inclined to climb the cage bars. However, an active hamster may love climbing the bars to burn off energy. Less active hamsters can opt for glass cages if they have other accessories they can use. However, energetic hamsters that love to climb would be happier with cages that have bars.
Selecting the Best Teddy Bear Hamster Cage – How to Make the Best Choice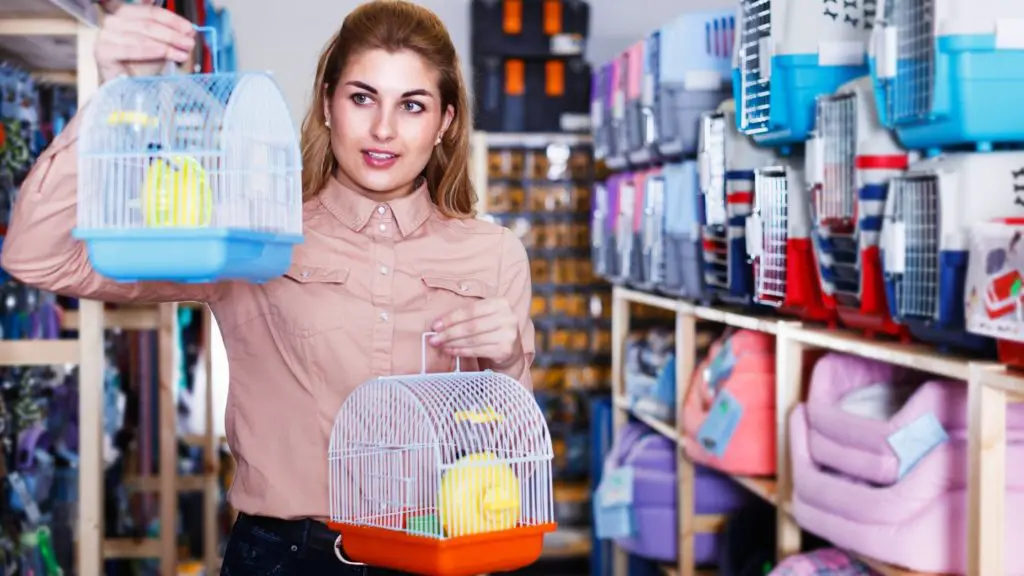 Choosing the best cage for a teddy bear hamster is crucial to ensure that they are happy, healthy, safe and more. Teddy bear hamsters are usually energetic hamsters that need a lot of space to be happy. However, each hamster is unique, so pet owners need to examine various cage designs to see which cage will fit their hamster's needs. Pet owners should know that a teddy bear hamster cage should meet the basic requirements, like recommended size, space for accessories, base pan, bar spacing, etc. 
Teddy bear hamsters are big hamsters that need big cages that have space for all of their exercises, so they usually do not do well in common, small hamster cages. They also need ventilation, which they can easily get from wired cages. However, teddy bear hamsters love to chew on everything they see, so they need to have cages with chew-proof wire to protect their health and keep the cage from breaking.
References:Mom.com, 'How often should you change your hamster shavings?', https://animals.mom.com/should-change-hamster-shavings-1008.html, Accessed – 18 May 2021