Last Updated on 01/23/2021 by Veronica Jones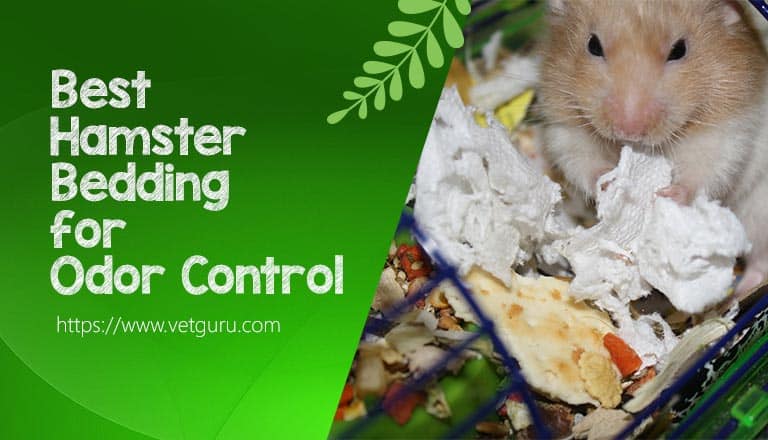 Hamsters are sensitive little pets which need some specific things to be taken care of properly. Bedding is one such thing on which all pet owners should never compromise.
Bedding is one of the most important parts of your hamster's life. We know that you want the only best for your pet but you might be confused that which bedding is really the best.
There are a lot of options available in the market and selecting the right one can be a bit of a tough nut to crack.
Hamsters are originally wild animals. In the wild, they build nests by burrowing into the grounds. Their wild habitat depends on their breed.
When keeping hamsters as pets, it is very important to replicate the environment of the wild for your pet. Replication greatly depends on the type of bedding you are providing for your pet.
Good hamster beddings make your pet extremely comfortable.
Picking up the best hamster bedding can be somewhat challenging, but you do not need to worry about that. We have got you covered.
In this review, we will be presenting you with the best bedding options for hamsters. We will also include a comprehensive buying guide to make your purchase decision easy and appropriate and a user's guide as well.
At the end of this writing, we will also discuss some of the most important frequently asked questions about hamster beddings.  We will make sure that you leave this place fully satisfied with all your queries related to hamster bedding.
Let's move towards providing a better life to your hamster.
Top 7 Best Hamster Beddings
After carefully analyzing all the available beddings for your hamster, we have selected the best among them. Following are the top beddings available for your little pet.
1. Kaytee Aspen Bedding Bag
At top of our list is Kaytee aspen bedding. It is made from totally natural aspen and is carefully processed under strict quality controls to remove any dust and wood debris which may be harmful to your pet.
It is totally safe for your pet as there is no aromatic oil added to it at the time of processing. It does not include any type of inks to give it a color. Totally organic bedding is great for the health of your pet.
The best feature that we like about this bedding is that it can be used in all types of habitat. Either you are using an aquarium, a cage or a plastic tub; you can rely on Kaytee to give you the best solution for all your hamster bedding needs.
It comes in 4 different sizes and you can select according to your needs. This bedding is easy to clean. Another excellent feature apart from being a hundred percent natural is its biodegradability.
By buying this bedding, you will also be playing your role in environment conservation and giving your pet a comfortable life.
The absorption and odor control features are also extraordinary and it can absorb liquids up to 4x of its weight.
One issue reported by some users is the bad packing of this bedding but it does not make any differences since the quality they are offering is really outstanding.
2. Absorption Corp Carefresh Ultra Pet Bedding
Coming from Carefresh, this bedding deserves the second spot on our list. It is worth mentioning that just like its predecessor it is also totally organic and biodegradable.
So, it will not have any negative impact on your hamster's health and will keep the little one comfortable and healthy.
You can also flush the used and dirty bedding but remember to do it in small quantities, so you might not end up choking your drainage system.
It does not contain any pine or cedarwood mixing or oils form them. Your hamster will not get injured with the bedding. In case, it swallows the bedding, the totally organic bedding will not hurt him at all.
Made from cellulose fiber, highly absorbent (up to 3x of its weight) good at odor control, helps in keeping the cage clean and smell free.
Please keep in mind that this bedding is more expensive than other beddings, but people who have used it already, say that it lasts more than other beddings.
The price hike is also justifiable by the fact that this bedding has already been sanitized at temperatures of 380 Fahrenheit to get rid of all the molds and fungus so that the pet stays healthy and fresh.
The absorption qualities ensure that ammonia produced from urine is suppressed and the smell is not allowed to leave in the cage and surroundings.
Users report that the levels of dust are very low in this bedding and do not create any issues while cleaning.
3. Kaytee Clean & Cozy White Small Animal Bedding
Another bedding coming from the house of Kaytee is clean and cozy small animal bedding which is good for all small pets and specifically hamsters.
This bedding is 99.9 % dust free and has the amazing absorption quality of 6x absorption (as claimed by the manufacturers). However, some users report that it does absorb greatly but not as much as 6x of its weight.
High absorbency also means that this bedding is good in odor control as well. It is not the typical fluffy bedding available at pet stores but it is soft and allows your hamsters to burrow and dig.
This imitates the natural habitat of hamsters and keeps your pet excited.
It comes in different colors, so you really need to look at the coloring process and the quality of inks used. If the inks leak after the bedding gets wet, it can be problematic for your pet's health.
It is also scented, if you are using this bedding, you need to observe your pet for the first 24 hours for any sign of coughing or dull behavior.
This would possibly be the result of scent infection. If any such thing happens, you need to replace the bedding with scentless bedding on an urgent basis.
4. So Phresh Scented Crumbled Paper Small Animal Bedding
This bedding is special when it comes to odor control. If your hamster creates a lot of smell and you are tired of trying different beddings, then this is your go-to option.
The scented paper bedding is made with baking soda. Baking soda has amazing qualities of odor control. This also allows it to be highly absorbent and helps in keeping the pets dry.
The material used is totally non-toxic and biodegradable. It is 99% dust free and non-allergic, thus ensuring health and safety for your pets.
The packaging and the customer service is great. It keeps the pets happy through its naturally scented paper. As it is naturally scented, so you do not need to worry about artificial chemicals being used in the scenting process.
5. Kaytee Clean & Cozy Birthday Cake Bedding
If you are looking to create a fun environment of your pet and kids to interact with each other, then you can get the colored bedding from Kaytee.
Different and interesting colors will not only keep your pet excited, but they will also motivate your kids to take care of pets and interact with them.
It guarantees odor control and is 99.9% free from dust. As far as the absorption ability is concerned, it is claimed to be 6x of the weight of the bedding but the reviews really don't agree with the claims of the manufacturer.
It is made from totally safe materials, so you do not have to worry about the health of your pet. It comes in 8 different colors, so you can add a different aesthetic touch to your little friend's habitat.
The soft and fluffy texture increases the leisure activities of your pets as they can dig in the bedding.
6. Kaytee Extreme Odor Control Pet Bedding
A masterpiece when it comes to odor control for your hamster. If your little fellow smells more than the regular hamster and you are extra sensitive about controlling pet smell in your house, then get this bedding.
The bedding offers odor control up to 14 days, which is by far the best being offered by any other bedding. Like other Kaytee products, it is also dust-free, absorbent, soft and safe for your hamster.
Urine smells, spillover food, and water will not give foul odor with this bedding. Some people have reported that there is scent addition in this bedding which actually helps in controlling the odor.
Despite the claims of the company, this bedding does not go a long way (14 days) in controlling the bad smells and you might need to change the bedding after 5-6 days.
7. Healthy Pet HPCC Natural Bedding
This bedding can absorb up to 3x of its weight, so ideally it will last for a couple of days. The odor control of this bedding is average and you might experience some smell near the cage. The bedding is made from wood pulp and is completely biodegradable.
One good thing about this bedding is that it organic and safe for the health of your hamster. It is also soft and your hamster will enjoy staying in it.
User reviews about this bedding are not that good. Problems with odor control, dust percentage and absorption are frequently reported.
Hamster Bedding: Buying Guide
While buying bedding for hamsters, following are the things to consider. These factors will help you in getting the best bedding for your pet and make their life comfortable and relaxing.
We have extensively researched the available beddings and their features and then selected the following points to be included in the buying guide.
Liquid Absorption Strength
Ideal bedding will have the best absorption qualities. Most manufacturers are now offering up to 6x absorption abilities with reference to the weight of the bedding.
Look for the bedding that offers a suitable and optimum absorption power according to your budget.
Odor Control
Another important feature to consider while buying the bedding is the odor control capacity of the bedding. Scented beddings are harmful to your pets.
Look for the bedding which is organic and offers maximum odor control. The beddings which have a good absorption rate will also have powerful odor control.
Dust
Look for the bedding which is dust-free. Dust is harmful to your pet and it is also difficult to clean.
Size
The size of the bedding you are going to purchase depends upon the size of your hamster and cage. If you have a large cage, you will need a large amount of bedding to cover up the surface of your cage for at least 3 inches in height.
If you have a large pet, you will need a large amount of bedding as it will get wet early and go rogue. Getting a bulk amount of bedding is the best solution in this case.
FAQs
How often should I change the bedding?
You should change the bedding at least once a week. If the bedding gets wets or is spoiled due to any other issue, you must change the bedding in an hour or two. Wet bedding can be problematic for your little hamster.
Can I recycle the bedding?
Yes, you can reuse the used bedding in flower pots and for filling of the garden holes.
Is buying in bulk helpful?
Buying bedding in bulk quantities can be helpful as you can save some money on it. In case you buy them in bulk, make sure you have a proper storage place to keep it dry from moisture and intense heat.
Can I use this bedding for other small pets?
Yes, you can use this bedding for other small pets as well. Hedgehogs and rats will be comfortable in this bedding. For further details, you can refer to the instructions printed on the packing.
Can hamster bedding help control the foul smell?
One easy way to overcome this problem is to use scented beddings but as already discussed in the user's guide, it is more harmful than being helpful.
Cheap quality bedding will not do any good as far as covering the odors re concerned. Good quality bedding will help you overcome the smell problem as well while simultaneously providing the utmost comfort to your pet.
Is eating bedding harmful for my hamster?
The answer to this question again depends on the quality of the bedding you are using. Organic beddings that are free from any type of chemicals are totally safe for your pet.
Wood beddings are not good as they have pointy edges, in case your hamster eats this bedding, it can lead to serious mouth injuries and can cause internal bleeding.
Conclusion
We hope that our comprehensive review on hamster's bedding has solved all your queries and you are now in a position to select the best bedding for your hamster.
Do not hesitate in spending an extra dime in providing the best care for your pet. Go ahead and make the little fellow's life easy.
Generous bedding will ensure that your hamster burrows and digs and it will stay happy. If the bedding suites your hamster, stick to the same bedding for them.