Last Updated on 01/23/2021 by Veronica Jones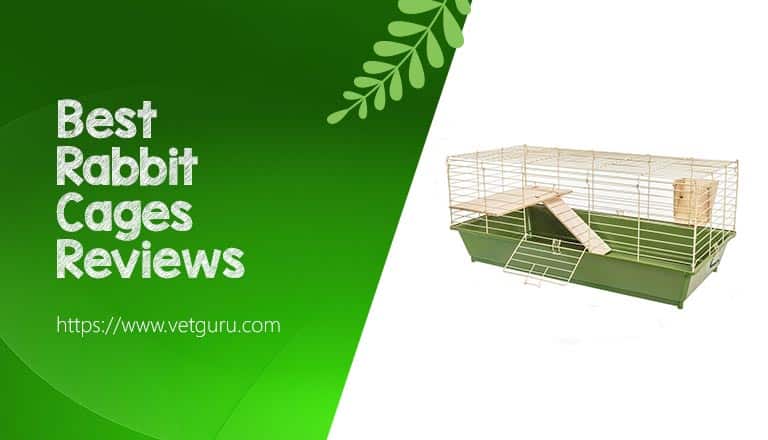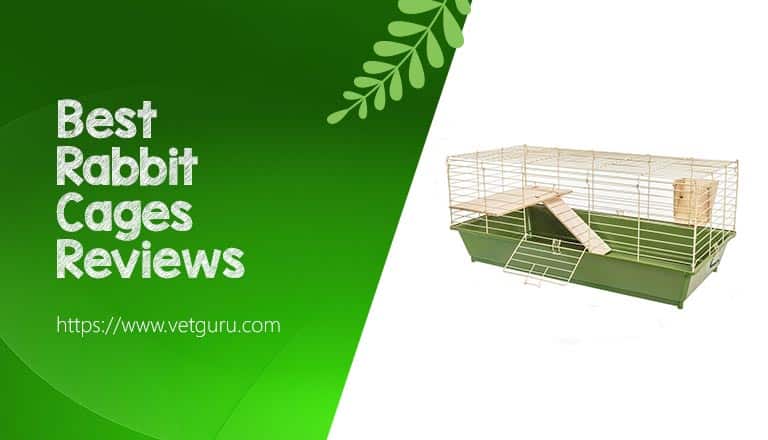 Who doesn't love cute, snuggly bunnies? You might be a pet lover yourself, or you might have a child that wants a pet that they can snuggle up to.
However, bunnies are not toys. They are living beings and if you want to keep one you will have to take care of it.
Bunnies can be very sensitive about their living arrangements. If you want your bunny to be happy, getting the right cage should be the first thing you do.
A good cage can be hard to find. To make it easier for you we have compiled a list of the top 8 rabbit cages.
5 Best Indoor Rabbit Cages
1. Ferplast Krolik Rabbit Cage | Extra-Large Rabbit Cage with Wood 
Features
Separated extension for shelter
Wide opening to cage
Hay feeder, drinking bottle, bowl included
Can be assembled and disassembled
Your rabbit won't like to be easily visible all the time. Sometimes rabbits like to have some privacy. This rabbit cage comes with a separated shelter. It is still part of the cage, it's just an extension that looks kind of like a house. The base also dips upward to provide a bit more separation. This can help your rabbit relieve itself outside the shelter extension without dirtying where it sleeps.
The opening to this cage is the entire front wire mesh. You can unhook it and lift it up to open up the cage. This is useful because it can help you clean your cage out. You will have more space to maneuver your arms and you won't have to squeeze your rabbit in through a small door when you are done.
This rabbit cage comes with a lot of accessories. This includes a hay feeder, a drinking bottle and a bowl. The buying price is not very high either. This makes it surprising that so many accessories are included. These accessories make this rabbit cage a complete housing solution for your pet.
This cage will come to you in deceptively compact packaging. When you open the packaging up you will see the various parts of the cage. These parts are quite easy to put together. All you have to do is fit them into one another using the latches and hooks.
The wide doorway is great for cleaning but not very good for security. Every time you open the door your bunny might get out. Another, smaller opening might have been convenient.
What We Liked
Separate shelter
Entire front wall opens up
Accessories included
Easy to assemble and disassemble
What We Didn't Like
Wide doorway might let rabbit escape:
2. Petsfit Wood Rabbit Cage with Deeper Removable Tray
Features
Large size
Suitable for indoor use
Treated with water based, non toxic paint
Constructed with cedar wood
One rabbit can get rather lonely. You might want to get a couple so that they have each other for company. This product is perfect for that. You can easily fit two rabbits in here with enough space for both of them to have privacy. The cage's height and multiple levels make cohabitation even easier.
The lacquered, pristine look comes from paint which is often toxic. This cage doesn't use toxic paint, though. The paint is water based. Your pet won't be in danger of getting sick or poisoned if they unwittingly lick the paint.
The cage is covered with iron wire mesh. This is very strong. Your rabbit will not be able to chew through it. The added security is great because rabbits often try to escape.
The wire mesh is spaced a couple of inches apart. This allows more than enough air to get in. It also helps regulate the temperature of the cage. Your rabbit will feel comfortably while it is inside as long as you keep it in an airy, open place.
The Ferplast Krolik cage is slightly cheaper than this product and it comes with a lot of accessories. The added price is unacceptable since you will have to spend more on a food bowl and other such accessories.
There have been instances of feces and urine leaking out of the cage. This is because the manufacturer did not take the proper precautions for this.
What We Liked
Size
Non toxic paint
Sturdy wire
Good ventilation
What We Didn't Like
No accessories
Complaints of leakage
3. MidWest Homes for Pets Wabbitat Deluxe Rabbit Home Kit
Features
5.5 inch deep base
Compatible with extensions
Assembly does not require tools
Elevated feeding area
A lot of cages have a problem. They do not have a separate feeding area. This is unhygienic because your rabbit will poop and pee all over its cage. This can get into its food and cause a real mess. This cage has an elevated feeding area. Your rabbits will learn to poop in the deep base of the cage and use the tiny stairs to go up to the feeding area when they are hungry.
Doors on the side can be inconvenient. This is because bunnies can easily escape through side doors. This cage has a handy door on top. You can open this if you need to reach in and clean something. You will be able to do this without worrying about your rabbits hopping out.
Unlike the Petsfit, this product has a deep base. While it misses the mark in other ways, the 5.5 inch deep base helps maintain cleanliness. You only have to worry about leakage if you don't clean the cage in a long time.
Rabbits can often be quite aggressive. This cage is not made of strong enough material. This means that your rabbits might be able to break through over time. A fall or bump could also seriously damage the cage. This is one of the things that makes it inferior to the Petsfit.
This cage comes with a water bottle. However, this bottle is not very good at letting water out. Your rabbit will have to put a lot of effort in to get hydrated.
What We Liked
Hygienic
Door on top
Deep base
What We Didn't Like
Flimsy cage material
Ineffective water bottle
4. Trixie Rabbit Hutch with Sloped Roof
Features
Two stories
Ramp leading to the second story
Stained pine finish
A rabbit can lead a nice life in this hutch. It will be safe from danger but won't feel constricted. There is a whole second floor that it can explore. The top floor has two sections as well. Inquisitive rabbits will have lots of fun in this cage.
A lot of hutches are not designed to take heavy rabbits. This hutch is different because it can withstand a surprising amount of weight. This is perfect for fat rabbits or if you want to house more than one animal.
Setting this cage up is going to be a very frustrating experience. A lot of the pieces are too big or too small for one another. This is poor design and reduces the overall value of this product.
Cleaning this cage can be very difficult because the pieces don't fit together well enough. This is a problem because poop and urine stuck between the cracks can fester and potentially cause illnesses.
What We Liked
Nice and roomy
Can withstand a lot of weight
What We Didn't Like
Pieces don't fit together well
Difficult to clean
5. KOUSI Small Animal Pen Indoor Fence Animal
Features
Large space
Enclosed netting
Heavy steel wiring
This cage is great because it does not have any unnecessary accessories. Instead, it gives your bunnies a comfortable, wide space to play around in. Your bunnies won't have to navigate around obstructions.
While this product does not have a roof, it has quite high walls. These are good enough to keep your bunnies from escaping. It also protects them from any predators that might attack.
You can move this product easily. All you have to do is pick up the panels and set them up elsewhere. There is no roof or floor which makes this a portable and convenient product to use.
This is a nice area to let your bunnies play around in. However, it is not a living arrangement. It is good for portable use but is not a final solution for your bunnies.
If you put your bunnies in this pen, they will poop and pee everywhere. Since this pen does not have a floor, all of this dirt will end up on your floor. This can be a real nightmare to clean up.
What We Liked
Roomy design
High walls
Can be set up anywhere
What We Didn't Like
More of a playpen than a hutch
Leaves a lot to clean up
3 Best Outdoor Rabbit Cages
1. Good Life Two Floors Wooden Rabbit Cage
Features
Made of Chinese fir
Two floors with separate, covered sections
Weighs about fifty pounds
This cage is big enough to house at least two rabbits. Three or even four rabbits can fit in here without too much trouble. The great thing is that this cage has two floors, and each floor has a space with a door in it. This door is opaque. This means that your rabbit can sleep there with some privacy.
A rabbit cage needs to be strong to prevent these critters from escaping. It also needs to keep them safe. The wood that this product is made of is Chinese fir. This is a very sturdy and durable wood. It is resistant to the weather and does not get damaged quickly either.
This product isn't exactly cheap, but it is an outdoor product after all. Most outdoor products are a lot more expensive. Besides, this product provides a lot of value for money.
This cage is not easy to set up. You will need power tools to properly construct it. This product also comes with special glue which often does not dry well enough.
What We Liked
Very roomy
Made of strong wood
Price
What We Didn't Like
2. Advantek The White Picket Fence Rabbit Hutch
Features
House like design with white picket fence
Insect and rot resistant wood
Auburn and white color
This is a uniquely designed rabbit hutch. Much like the Petsfit Bunny Cage it looks like a house. However, this product takes this design a step further. It gives the house a white picket fence as well.
If you are looking for a very spacious home for your pet bunny, this is it. This is one of the most spacious cages on the market.
The wood this cage is made of isn't just sturdy. It is resistant to rot as well. It also prevents termites from causing an infestation and compromising the integrity of the structure.
The picket fence may look nice but your bunny might start chewing on it and damage it. It's not going to last very long if this starts happening.
Cleaning this cage is going to be a little difficult because you will have to hold the roof open. This is inconvenient and should have been dealt with in the manufacturing process. If you consider how much of a handful rabbits can be this seems even more inconvenient.
What We Liked
Cute design
Extra large
Durable wood
What We Didn't Like
Picket fence not durable
Roof doesn't stay open
3. Kinbor Outdoor Wooden Bunny Hutch
Features
Galvanized wire mesh
Powder coated lattice
Fir frame
The manufacturer decided to go with a classic two story design. This helps make the hutch roomy and quite pleasant.
An outside hutch needs to keep your bunnies relatively warm and safe. This hutch can control its internal temperature a little because of how it's constructed. The interior will always be warmer or cooler than the outside depending on the weather.
You can access the inside of this cage with one of the two doors or with the cage openings. These multiple access points help you get to the area that needs the most attention.
This hutch is basically right on the ground, presumably so your bunnies can be close to the grass. This is inconvenient because it makes them susceptible to predators and such.
The sliding trays are meant to make cleaning easy but they often get stuck. This is a serious problem because it can cause dirt to fly everywhere and is very unhygienic.
What We Liked
Two story design
Good temperature control
Two doors and two cage openings
What We Didn't Like
Not high enough off the ground
Sliding trays get stuck
Things To Consider Before Buying A Rabbit Cage
As a rabbit lover, you know that it's nice and fun to have it because it's a friendly animal. But, providing your pet a good quality of cage is very significant to make it more enjoyable. So, you should take enough time to choose the perfect cage to keep them as comfortable as healthy.
When you'll offer your pet a well-defined and safe cage, it'll be very helpful to it. Safety is not just a matter of the cage; your small pet also likes to get some more features that will improve its life's quality. Thus many more things related to a rabbit cage.
Accordingly, you must go with the right one that will provide you all types of essential features for your pet. It could be a touch issue, but we have made it simple. You just need to continue reading.
Size
While purchasing a rabbit cage, it might be critical to make sure that you're considering the correct size. First off, when it comes to the size, you have to consider the total number of your rabbits that you're going to feed. If you go with a rabbit cage that's designed for indoor use, it'll be big enough to make sure your pet's complete safety plus comfort.
So, whenever you want to buy a rabbit cage, consider the proper size of the cage. When you choose a bit large cage that will be more suitable for your small buddy in terms of size. It's because rabbits are not as smaller as we're talking about.
They always like to run and jump around wherever they're. Hence, they need a size of cage that's the similar height of your table. But, if you keep them in a box-type small cage, it'll be the same as a prisoner in the jail.
That's why you must make them feel free to run and jump. In this issue, you should strongly consider a cage with 2 levels. This way, you have to ensure their highest comfort and safety as a cage is their long term housing.
The Height
The height of a cage is also a very considerable factor that needs to keep in mind while shopping. You have to choose the tall enough cages that allow your rabbit can stand on its back legs without touching the top of the cage. That means the cage should be large enough in both terms of height and width so that the pet can feel comfortable.
It also means you always should avoid buying the prison cell-like smaller height cages. As a result, before you make a final purchase, you have to wisely consider the cage that has enough height.
Now, the question is that what the minimum height of a cage that's comfortable for your pet. Yes, it's a great piece of question and the most recommended height is 40cm. if you choose a cage of this height it'll provide your small companion enough comfort.
Cage Floor/ Base
When you're considering many things before purchasing a rabbit cage, the cage floor or base is also a vital point to think about. You have to check the floor whether it's solid or not. It's recommended that you always go with a cage that has a solid floor.
That means you should avoid picking the wire bottoms. It's because if a cage comes with wire bottoms then it'll be irritating for the feet of your rabbit. Also, it can be the cause of getting your pet's injuries.
But, if you're in the tight budget to buy a cage with a solid floor then ensure the surface is hard enough where you'll set the cage. In any case, the solid cage floor is the best choice for your pet.
Assembling
You should buy a cage that you can assemble easily. Don't forget that your pet has to move around for the year-long or even more years. For example, you may need to go for an outdoor event or to a friend's house and you need to hook and unhook the cage by someone else. If the process becomes simple then anybody can do it easily.
But, if not then nobody will be able to do it without previous knowledge. Also, one more thing to remember that always avoids the cage that comes with a bolt with your surface. That's why to choose a cage that comes with easy assembling feature and that's simple to move on with.
Durability
This is a must-have characteristic of a rabbit cage. It's because the rabbit likes to bit on the most things and plastic is one of them. As a result, if you like to keep your rabbit in your home inside then you have to choose the type of strong cages, but light in weight.
But, never choose a cage with a light frame as your pet can break it due to being thin. As the indoor rabbits rarely come out, you have to engage your pet in a cage that must last at least one year. If you purchase a cage that lasts a few months then avoid buying the same one for the next time.
Cage Door
To facilitate better natural movements, your rabbit's cage door needs to be a bit larger. Also, sometimes you might like to lift it on your arms to go out. So, if the door cage is very small, you'll find it difficult to take out and keep inside.
Moreover, it would make both of you injured due to the small door. As a result, this is advisable that always consider having a cage with a large door.
Soft Floor Covering
The floor covering of a rabbit cage is a matter that's always out of consideration, which is very alarming. When wire and the hard floor is covering, it'll make your rabbit painful. Thus, it'll be the cause of making sores on the feet of your pet.
In this case, you can think to use hay and it's enough for a pet. You just ensure the abundant amount of the hay that prevents your pet to touch the floor ground. As the rabbit eats hay, you should ensure their enough supply.
Frequently Asked Questions
We have compiled the essential questions and answers regarding a rabbit cage. They're the combination of the most frequently asked questions by the pet lovers like you. Let's know some of them below:
Does My Rabbit Require A Cage?
Yes, it requires. If you have an untrained pet, you should keep it in some kind of home-based enclosure. These include a big cage, an x-pen (exercise pen), or something that can protect it when you're outside to your home. Also, it's needed at night because it requires safety while you're sleeping.
Is It Acceptable To Keep My Pet In A Cage That's Made Of Wire Floor?
No, you should not keep your pet like a rabbit on the wire floor because a wire floor is hard to feel on its feet. Another reason is that the rabbit doesn't come with pads like some other pets such as cats and dogs. If you need to use wire made floor cage, you should keep a rug or resting board for your pet.
When you allow just a bare cage with a wire bottom, your pet will spend its most time in the litterbox. But, it's not as ideal as good for it. As a result, you have to choose a cage that comes with plastic floors. Also, you can select one that's solid in design.
What's The Best Size Of Cage For My Rabbit?
Bigger is most time better, especially in terms of a rabbit cage. As we have stated already, the height of the cage should be about 40cm. And the size of a rabbit cage should be more than 4 to 6 times larger than your rabbit size. The size we're talking about the indoor rabbit cage.
Can I Keep Inside Of My Rabbit Cage?
Yes, you definitely can. But, don't forget to keep far them away from your living area. It'll help you to keep the area dirt-free. Also, you'll have to make sure that you have a large space inside your home to set the cage up. Moreover, if you keep them your home inside, it'll feel less lonely and depressed than keeping it outside.
Conclusion
While you're going to keep rabbits, you have to remember one thing that every animal has its unique personality. This is why make sure that know the requirements of your pets before you buy a cage for them.
It also needs to make sure that you've gone through thorough research to avail them of the best cage.
For example, you should ensure that the cage was designed to keep your pet warm when it goes with the very cold winter months.
Moreover, there are some more considerable things like bedding and their toys to play them with to make their life more comfortable. And hopefully, we have provided you the right points regarding this issue that will make you able to choose the right cage for your beloved pet.