Last Updated on 01/23/2021 by Veronica Jones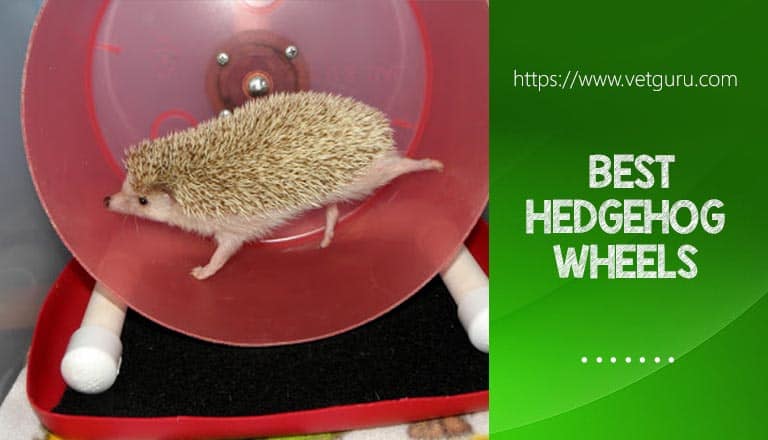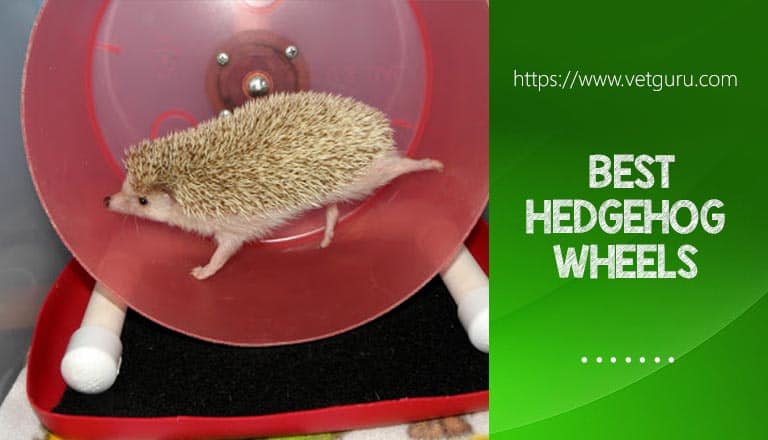 Hedgehogs need to exercise to maintain good health just like humans and other pets. Nevertheless, you can't let them amok in the house or take a walk with them like a dog. This is when a hedgehog wheel comes into play.
With a hedgehog wheel, your hedgehog can be exercising regularly in its cage. If you want your pet to remain strong and healthy by exercising regularly in its cage, you need a good hedgehog wheel.
If you are looking for the best wheel to keep your hedgehog fit and healthy, you might be having a hard time choosing one product. This is because there are many hedgehog wheels in the market, different brands, and manufacturers.
With the numerous options in the market, picking the best wheel for your little friend might seem like a daunting task.
To ease the stress of finding the best wheel for your pet, we have done our findings to present you with some of the best wheels for hedgehogs in the market.
Reviews of the Best Hedgehog Wheels
1. Exotic Nutrition Silent Runner
If you are looking to keep your hedgehog active by exercising, the silent runner by Exotic Nutrition is one of the best options in the market. This wheel comes with a plan solid surface. It does not have any gaps.
This means there are no areas on the surface that could pinch and harm the tiny leg of your pet. The running track of this hedgehog wheel is textured to make sure that your pet does not slip. It is designed to provide your pet with a grip.
This wheel comes with a cage mount that lets you mount it in any cage with ease. It also has bean-shaped openings for your hedgehog to get in and out easily.
This hedgehog wheel is made with ball-bearings. This feature helps to keep the wheel silent when it is in use. The wheel is 12 inches wide and it is safe for your little pet.
2. Suncoast Sugar Gliders Wodent Wheel Senior & Tail Shield
What makes this hedgehog wheel the number one choice of many hedgehog owners is its semi-closed design. This product is convenient, safe, and it is affordable. Another great selling point of this product is that it is designed with the safety of your pet in mind.
The size of this wheel also makes it a great fit for other pets such as squirrels and rats. You can place the wheel directly in the bedding.
It also comes with a stand that lets it on its own. The inner track of this unit is made of plastic, which is absolutely safe for your little friend. The plastic design also makes this unit very easy to clean.
This wheel is designed to prevent the toenail or feet of your little friend from entering the center axle. This wheel is very quiet, compared to other hedgehog wheels.
With the stand, the height of this unit is 12 inches and its diameter is 11 inches. This product has a lot of positive reviews from happy customers. It is one of the safest and most convenient hedgehog wheels in the market.
3. Kaytee Comfort Wheel
The Kaytee Comfort Wheel is another great wheel for hedgehogs. This wheel is available in three different sizes. You can either go for the small, large, or giant option. This wheel gives you two usage options.
You can either attach it to the wired cage of your pet or use it as a free-standing wheel. The surface of this wheel is made with solid material.
This material ensures the safety of your hedgehog. The metal surface also makes the wheel comfortable for hedgehogs to run on.
The wheel is designed to enhance the healthy lifestyle of your pet. It is certified to have a tail-safe design and it is very quiet when in use. The diameter of the large-sized hedgehog wheel is about 8.5 inches.
The diameter of the small is 5.5 inches. Whereas, the diameter of the giant size is 12 inches. This unit is also available in three different colors, giving you the freedom to choose the color that best suits your style.
4. Ware Manufacturer Flying Saucer
Many customers have testified that the Wheel is the best exercising tool for their hedgehog. The width of this exercising equipment is 7.25 inches, the height is 4.25 inches, and the depth is 7.25 inches.
This unit can enhance your pet's healthy lifestyle and accommodate its needs.
One fascinating feature about this hedgehog wheel is that it can keep the feet and tail of your pet safe. With this product, you do not need to worry about the safety and well-being of your pet when it is using the wheel.
Another great feature of this unit is that it produces zero noise when it is in use. It is completely silent when in use, allowing your pet to exercise regularly without disturbing your peace.
This wheel also features a sturdy outline for stableness. This is a medium-sized hedgehog wheel and it is made with durable plastic material.
5. Quality Cage Crafters Chinchilla
The Wheel is made with metal and wood, making it more durable than other types of wheels. It is also very stable than most plastic constructed wheels. This hedgehog wheel is big, and it provides enough room to make your little friend comfortable.
This unit is completely safe for your pet, as it is not made from plastic that it could chew on easily. This unit features an open-wheel design and the surface is wide enough for running. To provide long-lasting performance, this unit comes with dual ball bearings.
The unit is also very quiet when in use. It does not produce any sound when your pet is exercising. The only downside of this cage is that it needs a bigger cage to fit in since it was designed for chinchillas.
The diameter of this wheel is about 15 inches, so you need to have a large hedgehog cage for it to fit in.
Things You Should Consider When Buying a Wheel for Your Hedgehog
There are many things you should put into consideration when looking for the best wheel for your hedgehog.
Considering these factors would help you settle for the best option for your pet. Not every wheel in the market is ideal for your pet.
There are some wheels you avoid. Before we go into the vital factors you should consider when purchasing a wheel for your hedgehog, here are two wheels you should completely avoid using for your hedgehog.
Wheels You Should Not Use for Your Hedgehog
Crossbars Wheel:
Crossbars wheels are not safe for your hedgehog. These wheels can be dangerous, especially when your pet is trying to get off the wheel while it is moving. Your pet can get injured in the crossbars when it tries to step off the wheel.
Mesh Wheels:
Mesh-wired wheels of any size are not safe for your little friend. The toenails or the entire foot of your pet can be trapped in it, which can cause them to bleed or even break their legs. Hence, it is recommended that you avoid these types of wheels.
Do Not Choose a Wheel with Rungs
The most interior surfaces of hedgehog wheels come with horizontal rungs that lay side by side. You should avoid buying such wheels, as the feet of your hedgehog can be caught between the rungs.
This would result in serious injury and bleeding. The ideal wheel for hedgehogs is one with an interior that is made with plastic or metal.
A surface that is textured for running is best because it gives it more traction, ensuring that your pet is safe.
The Size of the Wheel
The wheel you settle for should correspond with the size of your hedgehog. You should not go for a wheel with a diameter that is less than 7 inches.
Make sure the wheel is spacious enough to accommodate your pet. This ensures your pet would remain comfortable when burning some calories and keeping fit.
Stability and Safety
This is another vital thing you should consider when looking for the best wheel for your hedgehog. You should pay close attention to the stability of the wheel.
Without this feature, your hedgehog can get injured when using the wheel.
It is recommended that you choose a wheel with a sturdy base; this would ensure that the device will not tip over when used.
You should also make sure that the product you are going for is tail and feet safe.
Furthermore, hedgehog wheels with interior ribs are safer and more comfortable than wheels without this feature.
Compatibility
A compatible hedgehog wheel makes installation easier. Some wheels allow you to attach it to a cage while some can be used freestanding. Some cages come with both features.
In addition, you should make sure that the wheel you choose is smaller than the hedgehog cage. If you have a small cage, then you should go for a smaller wheel.
However, the wheel should be spacious enough to accommodate your pet. The wheel should not also occupy the whole cage.
Material Used for the Wheel
There are two major materials used for making hedgehog wheels – plastic and metal.
Plastic hedgehog wheels are cheaper. However, they do not last as hedgehog wheels made with metal. Both materials have their pros and cons.
For example, wheels made with plastic do not have these rungs on its running surface.
However, you need to change them at least two times a year. Irrespective of the type you opt for, it is crucial to make sure that the running surface is smooth.
A textured running track is also good, provided it is not dangerous to your pet.
If you are choosing a wheel made with metal, make sure it is powder coated or polished.
Ease of Cleaning
Your hedgehog should always be in a safe and clean environment. As such, you should go for a wheel that is easy to clean and maintain. When it comes to ease of cleaning, wheels made out of plastic are the best.
With this option, you would not spend a lot of time soaking the wheel to get it clean. Plastic wheels are very easy to clean and they do not accumulate a lot of dirt.
To clean them, all you need is warm water and mild detergent. Metallic wheels are not that easy to clean and they stand the risk of corrosion.
The Noise Generated by the Wheel
Hedgehogs sleep a lot when the sun is up, and they are nocturnal. This means that a quiet wheel is the best option you've got.
If you want to have a peaceful night's rest, you should avoid a noisy hedgehog wheel.
Many wheels are designed to be quiet when in use. You should opt for a model that is labeled 'silent'.
Over time, wheels made with metal may become noisy and squeaky. However, you can fix this by using lubricants, but don't use chemical lubricants that could put your pet at risk.
Frequently Asked Questions (FAQs)
Does a Hedgehog Need a Wheel?
Like other pets, hedgehogs do need exercise. A wheel is the primary source of exercise for hedgehogs.
Hedgehogs need many enriching activities, and exercising on a wheel is the number one on their priority list. Hence, hedgehogs do need a wheel.
What Size Wheel Should I get for My Hedgehog?
There are different sizes of hedgehog wheels out there. However, the size of the wheel you should get for your pet depends on your budget and the size of your hedgehog's cage. You should go for a wheel with a diameter of at least 7 inches. However, the larger the size, the better.
What Is the Best Type of Wheel for My Hedgehog?
We have plastic and metallic hedgehog wheels. They both have their advantages and disadvantages. Metallic wheels are more durable than plastic wheels.
However, plastic wheels are easier to clean. Nevertheless, many customers seem to prefer plastic wheel to metallic wheels.
Final Thoughts
Whenever you want to buy an accessory for the enclosure of your pet, make sure the product has many positive reviews online. To get the best hedgehog wheel for your pet, look for a comfortable wheel. Anything other than this could trap the pet's feet and injure him. Space is also an important consideration.