Last Updated on 01/23/2021 by Veronica Jones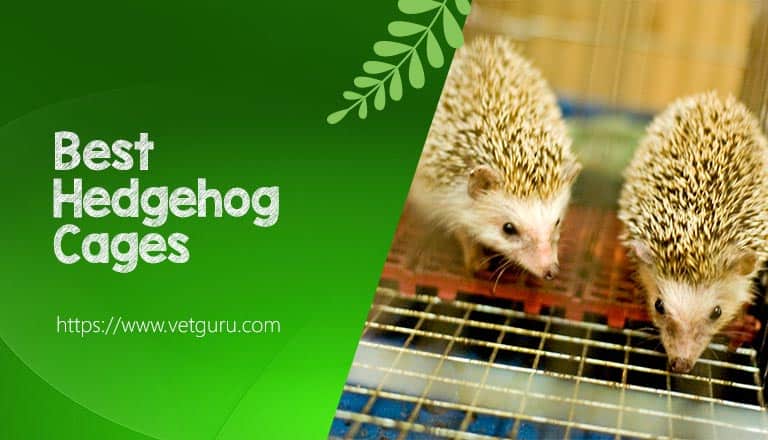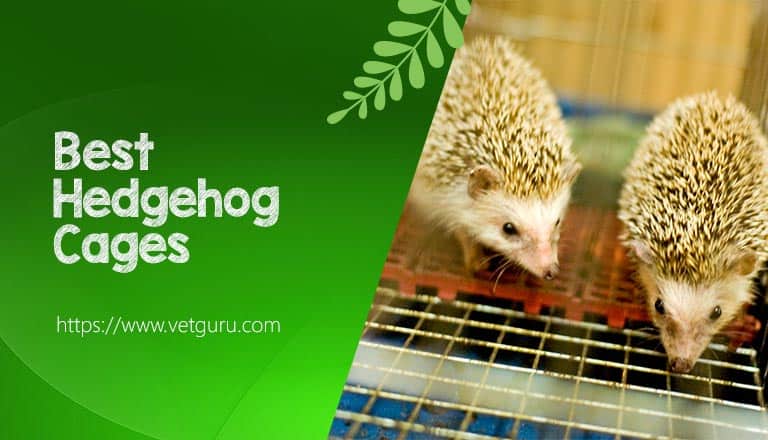 As a hedgehog owner, there are many things you need to learn to take proper care of your pet.
One of the most important things you can do for your pet is to get the best, proper hedgehog cage for it.
Hedgehogs are small, beautiful creatures, and they are very sensitive to their environment. You want to ensure that your little friend stays in a comfortable and stress-free space.
Providing your hedgehog with a comfortable environment would ensure your pet grows and develops properly.
Living in a cozy, nice place will enhance the development and disposition of your hedgehog. All these boils down to your choice of a cage for your pet.
Choosing the appropriate cage for your hedgehog is one of the most vital decisions you would have to make.
Hedgehogs spend the majority of their time in their cages. Hence, you do not want to make any mistake.
You need to make your pet's cage as hospitable as possible if you want it to be healthier and happier.
In this article are some of the best hedgehog cages in the market. We will also provide you with a guide on how to choose the best one for your pet.
Top Cages for Hedgehog
1. Living World Deluxe Habitat
The Living World Deluxe Habitat is one of the best hedgehog cages in the market.
It is an extra-large cage; providing enough room for your pet to wander around.
This cage has several compartments. It has an access ramp and a balcony. It also has a secured food dish on the floor.
The food dish was designed to prevent your pet from making a mess on the floor. This hedgehog cage is made with two high-quality materials.
The upper frame is made with wire while the base is made with plastic.
This cage features two entryways; you can open it from the top of the side.
The Living World Deluxe Habitat is also well ventilated, providing your pet with all the light and fresh air it needs.
This cage is available in three different sizes: standard size, large, and extra-large. The materials used for this cage are non-toxic, ensuring your pet remains healthier and happier.
2. Midwest Ferret Nation Double Unit with Stand Ferret Cage
While the name of this cage says it is a ferret cage, it serves as one of the best cages for hedgehogs.
This unit is also large enough to provide your pet with a spacious environment to live in.
You can also divide this cage into two sections; this is a great feature if you have two hedgehogs.
This unit features a well-designed ramp. It features Happy Feet ramp, a special type of surface that provides traction and prevents your pet from slipping as it goes down.
Another great feature of this cage is that it is easy to assemble. You do not need any tool to assemble it.
You can also customize the interior space of this cage as it comes with adjustable shelves.
It is portable, and you can move it around easily. It also comes with casters to enable you to lock it to a particular position.
This unit comes with two pans, two shelves, and three ramps.
3. Kennel-Aire A-Frame Bunny House
The Kennel-Aire A-frame Bunny House is another great cage for hedgehogs even though the name states it is a bunny house.
This cage also provides a sufficient amount of room for your pet to run around.
This unit is made with strong wire; it is built to stand the test of time. This cage looks like an actual house, as it comes with an arched roof.
The cage is lightweight and it is easy to move around. It also comes with smooth-rolling wheels.
You can also lock the wheels when you want the cage to be stable. There is a durable plastic tray at the bottom of this cage.
This tray traps dirt and urine from your pet. It also holds foods and drinks.
You can also slide the pan out for easy cleaning. It features two separate entrances; a door at the top and one at the front.
This cage is loaded with quintessential features for convenience, safety, and comfort.
4. Kaytee My First Home 2-Level Pet Habitat
The Kaytee My First Home 2-Level Pet Habitat is one of the top hedgehog cages in the market.
This hedgehog cage comes at an extra cost, but it is worth every penny. This unit comes with four casters.
You can lock the casters at any position you want. This cage is deep and the bottom part is made with plastic.
The edges of this cage are properly sealed, preventing any form of liquid, including urine, from leaving the cage.
The door of this cage is also very large, making it easy for you to access your pet whenever you want.
The cage also features chew proof latches and durable wires.
It comes with a safety ramp, comfort shelf, hay buffet, food dish, water bottle, and caster wheels.
The cage is also very easy to clean, as it traps and holds dirt and food spillage from your pet.
It is also very easy to assemble; you do not need any special tool to assemble it.
5. Ferplast Krolik
This is the most beautiful cage on our list. This cage is a great habitat for hedgehogs.
It comes with a drinking bottle, a hay feeder, a feeding bowl, and a wooden covered shelter.
Your hedgehog can sleep or hide in the wooden shelter when there is much noise in the environment.
The capacity of the drinking bottle is 600cc, and it comes with a hook that lets you attach it to wire mesh.
The door is also wide enough for you to access your pet and carry out maintenance easily.
You can also remove the shelter to provide your pet with more space to play around. This hedgehog cage is sturdy and it is made with durable wire.
The base is high and large. You can also separate it from the top, giving you more room to clean with ease.
Another great feature of this cage is that you can easily assemble and disassemble it. This cage is spacious enough to hold up to two hedgehogs.
Types of Hedgehog Cages
Plastic Storage Containers:
These types of hedgehog cages are relatively lightweight, portable, and affordable. They are easy to disinfect and clean.
The downside of this type of cage is that they are dangerous when used with additional heat sources.
Besides, it is challenging to find a plastic storage container that is large enough to accommodate other accessories.
Wire:
Wire hedgehog cages are one of the most common in the market. They usually come with a solid bottom and deep pan.
The number one advantage of wire hedgehog cages is that they are well ventilated.
If it is cold, this cage also allows you to safely and easily heat your pet with any ceramic heat emitter.
These cages tend to have more space at the base than other types of cages. They are strong and they can last for years.
However, this depends on the quality you settle for, as some brands have high-quality wire hedgehog cages than others.
Pan Hedgehog Cages:
Pan hedgehog cages are either plastic or metallic. However, many pet owners seem to prefer plastic pans, as they are easy to clean and they do not rust.
If you would be introducing an additional heat source, then the metal is not the best option.
If you are opting for a pan cage, it is recommended that you go for one with a depth of at least 6 inches to prevent your hedgehog from climbing.
Frequently Asked Questions (FAQs)
What Is the Best Size of Hedgehog Cage?
This depends on your budget as well as your personal preference. However, a small cage is not ideal for a hedgehog.
The minimum size of a hedgehog cage you should go for is 2ft X 4ft. You can also opt for 2X2 feet of a cage.
However, it is not the most appropriate space if you want your pet to have enough room to play.
Can I Put Two Hedgehogs In One Cage?
Hedgehogs are anti-social and solitary. As such, it is not recommended to put more than one hedgehog in one cage.
If you put two hedgehogs in one cage, they might injure or harm themselves.
What Is the Best Place to Keep a Hedgehog Cage?
A hedgehog cage should be kept in a comfortable place. Hedgehogs do very well at a temperature between 70 to 80 degrees.
Hence, you should keep the cage away from the window and out of direct sunlight. The place should not be too cold neither should it be too hot.
The place should be warm and well lit. The place should also be well ventilated.
Final Thought
Getting the best hedgehog cage for your little friend is very important, as it would ensure your pet remains happy and healthy.
We also highly recommend that you choose a hedgehog cage that provides plenty of room for your tiny friend.
With the hints provided in this article, settling for the best cage for hedgehog should no longer be a problem.
We have also provided you with some of the best options in the market; you can choose anyone that best suits your budget.