Last Updated on 01/23/2021 by Veronica Jones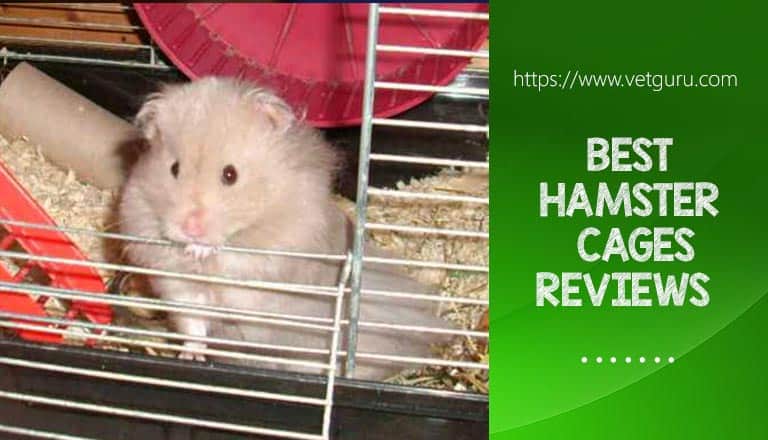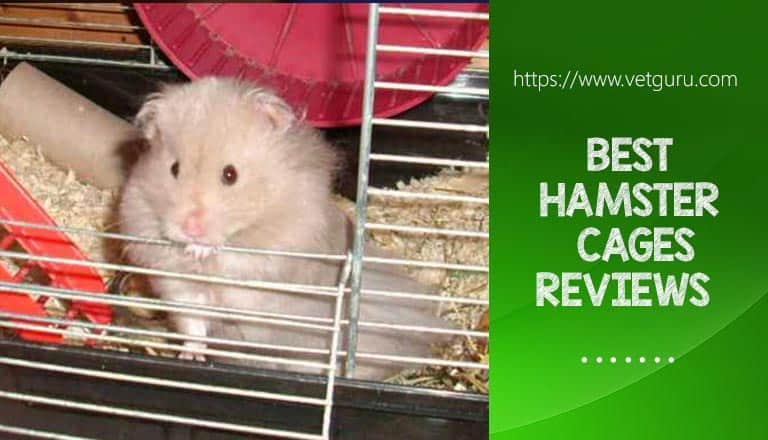 Hamsters are a nice type of pets that kids like them very much. Indeed, they're a great pet for the people of the most age groups. Hamsters are extremely ideal for small houses and for those people who don't have enough time to look after a cat or dog.
It's because they're simple to take care of and provides lots of delight to their raising people. However, they're not completely free of maintenance. It means that they also need some care for their food, attention, cleaning their cage, and some others.
When it comes to choosing their cage, you have to choose the best hamster cage for them. It'll ensure their healthy living with better space for their exercise and playing. Well, let's know about some best and top quality hamster cages for your little buddy.
Top 10 Best Hamster Cages
1. Ferplast Hamster Cage
Ferplast is very expensive cage among others are available out there. This is a hamster cage with a double level that allows your pet to go top level to get their food and water.
In the down level, it can exercise, dig under the wood chips, and roam. Notably, the lower part of the cage has made of plastic.
As a result, the chips will not overflow on the shelf or table where the cage is staying. Besides, its exercise wheel has added by plastic-made with grip bumps. Because the cage has not made by metal, your pet will not find their foot when they'll run.
Its upper cage is made of wire and the bottom layer with a plastic bowl. Thus, it ensures the essential stability while using and cleaning.
Also, it has a larger exercise wheel that has extended to two levels. You can like up the lower level of the cage using a thicker wood shavings pad.
Pros
Simple to clean
Essential accessories
Modular design
Well made
Cons
2. MidWest Homes Hamster Cage
This one is a high-visibility pet cage suitable for your hamster from the production line of MidWest Homes. It's easy to summarize in short: levels galore.
When you'll open the cage, you'll find two different spaces in it. The bottom level of the cage has comprised of the base of the cage.
At this level, your little pet will eat and drink along with burrow in the wood-made shavings. Also, a tunnel is out there that goes to the top-level to bring it upstairs. You can fold the cage closed for travel to make it a carrying compartment.
The top lid plus bottom of the cage has made with a strong plastic. Moreover, the cage comes with a durable metal grid. When it comes to the upstairs, your hamster will enjoy different levels with a wheel to exercise, and a secret hut.
Pros
Innovate with vertical design
Extremely visible
Durable metal grid
Folding top
Cons
A bit larger exercise wheel
3. Prevue's Pet Products 528 Universal Animal Home
Prevue presents the great pet cage that allows your hamster to enjoy its bottom basin. Also, the cage is good to climb up to eat food on the upper level. The measurement of the cage is 39-inch by 19-inch respectively in length and width.
Furthermore, the height of the cage is 17-inch that ensures getting enough space for your hamster. That means that the cage is large enough and you'll not need to buy another one for extra room.
The upper part of the cage comes with easy to unclasp method from its lower basin to clean it in simple.
Moreover, it allows trouble-free access as the hatches are easy to open at its top plus front. With a 6.25-inch whopping, the basin has extended deep.
This is why it lets the cage get a bit more loads of its wood shavings along with exploring tunnels.
Pros
Large in size
Basin is extra deep
Strong build
Simple to clean
Cons
4. Lixit Animal Care Hamster Cage
If you're looking for a multicolored combination of different stuff in a single cage then your search ends here. You can take the hamster cage that's coming from the production house of Lixit. The cage is easy to carry because of two handles.
These handles prevent your pet from tipping to left as well as right sides while transporting it. The basin of the cage has made with a strong, blue-color plastic, which is right for thicker levels of wooden chips.
The measurement of the cage is 31.5-inch by 20-inch in length and width where the height is 20-inch.
As a result, the cage is large enough to provide your pet more space for vertical climbing with extra room for its exercise and running.
The whole thing of the cage is extra because its tube tunnel is double level and two domed climbing plus food storing areas.
Pros
Many tunnels & pathways
Deep basin
Easy to transport
Double-level
Cons
Color combination may not be matched with your home interior
5. Kaytee CritterTrail Hamster Cage With 2-Level Habitat
Kaytee offers the CritterTrail hamster cage that comes with bright colors and transparent plastic props. The cage has a combination of plastic and metal as its grid has made with metal and it's enough high to give you more space for running and climbing.
Also, its translucent and deep basin is much deep for wooden chips. When you need to give its food inside of the cage, you'll get an easy access point from its top side's door. Moreover, it's simple to lift the lid off while adding props and cleaning inside of the cage.
Some more inclusions offer your pet lots of space for exercise and exploration. These include 3 tunnels, 2-floor platforms, and a wheel to exercise. Besides, the cage comes with a food/water dish that's effortless to set in the base of its basin.
Pros
Many pathways for winding
Brilliantly colored
Easy visibility
Great tunnel system
Cons
Not suitable for adult pets
6. Hamster And Small Animal Home/Cage
This is a bit conservative type of hamster cage that was designed to fit with the most home décor. Such as, its basin, bowls, and ramps make a woodsy and calm home background for your small buddy.
Also, it has a naturalistic platform and lids in green color help you to get a look of naturalistic.
This is how your hamster will feel that it's living in the real forest. With a 19-inch height, this cage is a bit expansive while extending up to the maximum measurement.
You can clean and access it easily because of the unfasten options from the lower part of the basin.
Moreover, there are also a sliding door and flap of the roof to access in simple. In its basin, you'll find a wheel for exercise that allows your pet to regular exercise.
This is because your little buddy will remain safe and secure while exercising and running through it.
Pros
Multiple layers
Multiple points to access
Hanging platform
Upper cabin
Cons
Difficult to place food in corners
7. Habitrail Cristal Hamster Cage
Among the crowd of the multicolored cages, the Habitrail Cristal has achieved a bit different and bright look. But, it'll not overwhelm you with matching and mixing primary colors.
For example, the vivid orange color comes with the design to make a cherry along with a cool appearance.
You can use it easily throughout the big side hatch that makes you able to add treats and clean the cage without making it apart.
It's unlatched for the entire cleaning as necessary though. The measurement of the cage is 16-inch by 10-inch in length and width.
As a result, your pet will get enough space to eat, sleep, and explore. Also, the cage is made of strong plastic with a lot of space from breathing without allowing your hamster to escape.
Besides, there are more extras including water dispenser, feeding dish, and exercise wheel. Despite having this feeding dish with the cage, it also comes with a different treat box.
Pros
Modular caging system
Bright looking
Lots of accessories
Simple to clean
Cons
8. GalaPet Hamster & Guinea Pig Cage
You can accommodate pets like hamsters and guinea pigs in this cage. This cage has made with metal from clasps to its bottom where the basin is plastic made with lots of useful accessories. These all might get grasped to the rails of metal.
Among the extras, you'll find an exercise wheel to go beyond and a prop to climb up of planks and spheres. Since the prop wobbles in nature when your pet climbs, you'll find the feeling of climbing a tree. That means it helps to provide the real stimulation and exercise.
Likewise, your pet needs a ladder to climb up the cage by its side and a swing of chain-suspended that allows it to eat and sit in. After all activities, your pet will get a good respite with its water dispenser while the upper level has many more things to explore.
Pros
The entire wood props
Unique swinging prop
Included a ladder
Modular Design
Cons
The issue with chain swing
9. Habitrail Twist Hamster Cage
This is another suitable and popular cage for your hamster from the production house of Habitrail. The cage has designed in modular type while allowing you to get a connection with different tunnels and pipes to the sides of the cage.
When the tunnels have attached, they can take your pet back about to the reverse side. Also, you have the opportunity to connect them to extra cages. While talking about the making quality of the cage, it comes with multicolored plastic.
So, it allows you easy viewing of your pet from all angles. Besides, a deep basin is out there that's easy to use for bigger treats like apple chunks and thick carrots. Also, you can make it accommodate a thicker cushion that is made of timber chips.
Pros
Modular design
Many accessories
Multicolored plastic
Deep basin
Cons
The issue with a wheel that traps the pet's leg
10. Yaheetech 37'' X52" Metal Ferret Cage
This is a ferret cage and its double in size of a standard hamster cage. It's why the cage is the largest one among many other metal cages is available out there.
The cage comes with a height of 36-inch to ensure enough space for your hamster to run, exercise, and climb.
It has two doors in different positions that make sure you simple access to upper and lower parts of the cage. Moreover, the cage site on strong casters that allows you to take it from one room to another one when needed.
There are 3 levels and all of them have joined by ramps that are made of metal grid. This is why your pet can eat and sit on the high.
Pros
Metal construction
Large in size
Simply movable
Sits on casters
Cons
Frequently Asked Questions About The Best Hamster Cage
What Stuff Do My Hamsters Want in Its Cage?
Usually, it needs some substrate or bedding for the cage's bottom side because it allows your hamsters to hide and burrow as they're in the woodland.
Also, they want a water dish or water bottle while the stopped bottle is much useful than a dish. It's because the dish makes much mess than a bottle.
Should I Cover My Hamster Cage At Night?
No, you must not. Hamsters like to be more dynamic at night because they're nocturnal creatures. They sleep while the day time.
What Should I Do To Keep My Hamster Healthy In A Cage?
When you think about the good health of your hamsters, proper ventilation along with a clean cage is very crucial. If you don't keep the cage clean right way, it'll gather urine and make your pet sick.
How Big Should A Cage Be?
The minimum measurement of the hamster cage is 24-inch X12-inch X 12-inch. They usually need larger cages which is why the larger, the better.
Conclusion
You have learned about the best hamster cage and different brands and models of them through the above-said topics. Also, there are some FAQs and these all will help you to choose the right and useful hamster cage that you're looking for your pet.
In the list, we have added the most popular as well as suitable cages. So, if you choose from one of them, you'll get the best one. Now, the decision is yours and you can do some more researches while you needed.