Last Updated on 08/20/2021 by Veronica Jones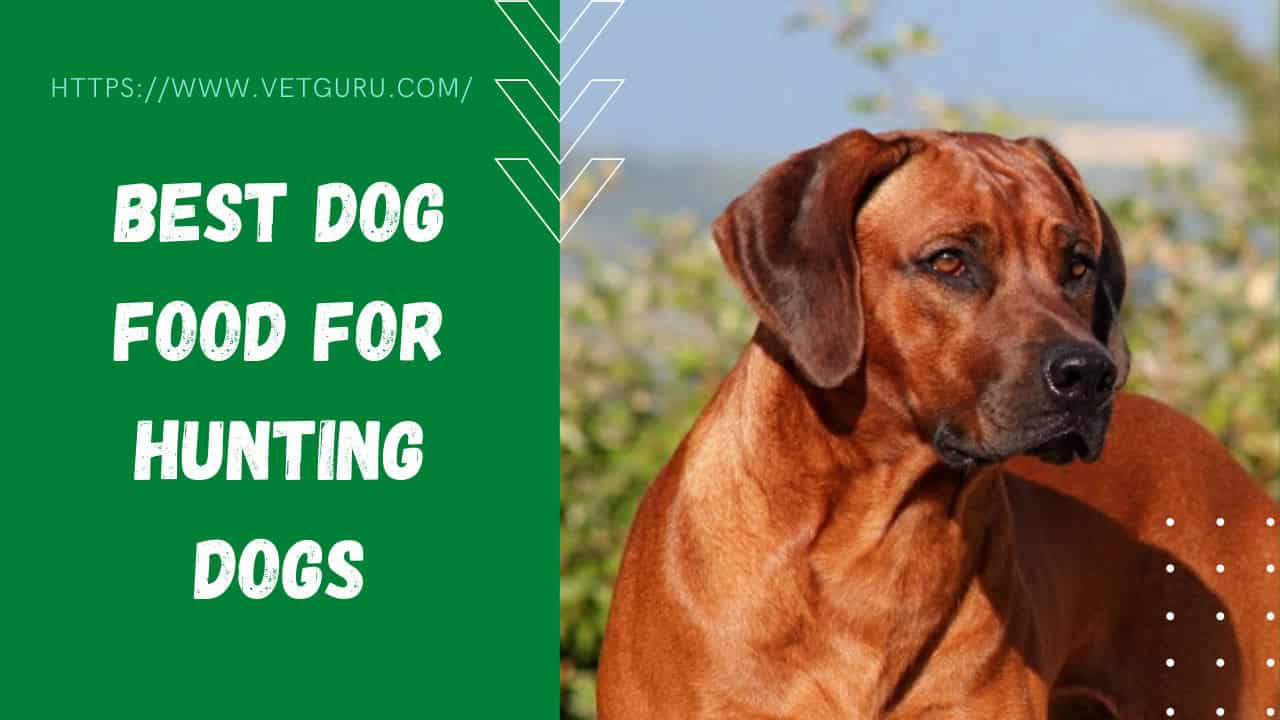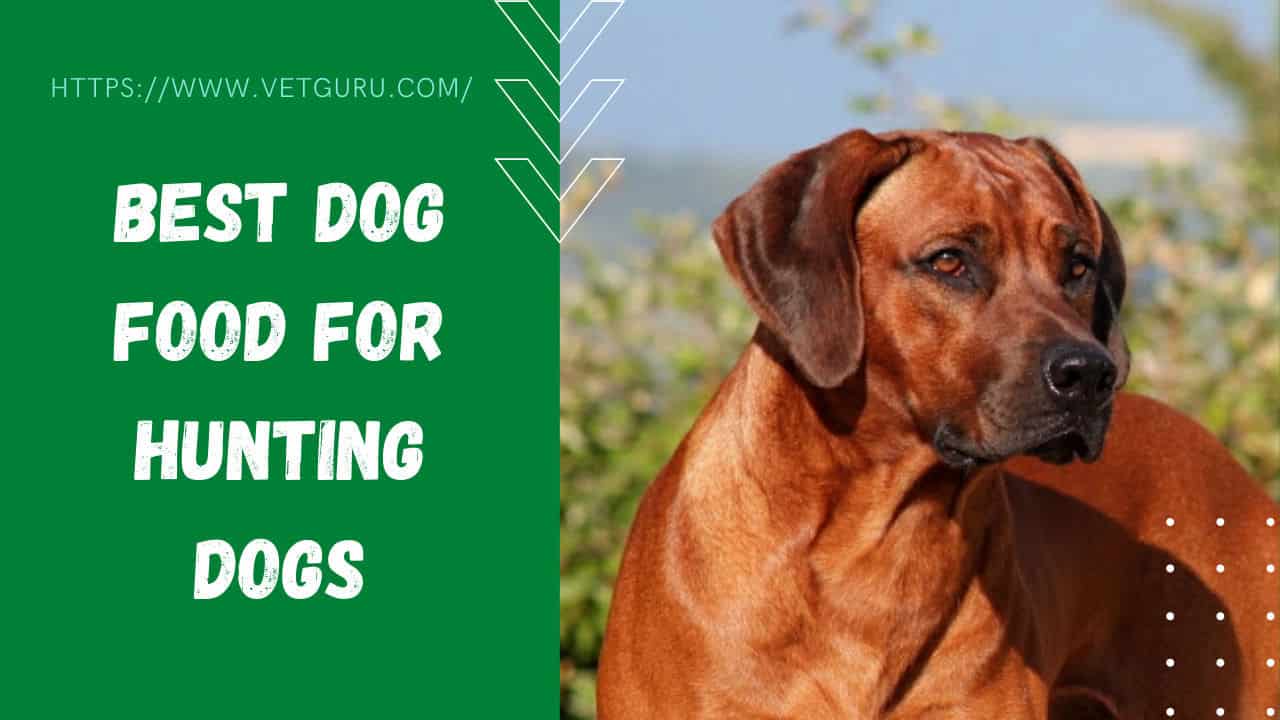 Hunting dogs, such as Labrador retriever, beagle, German shorthaired pointer, bloodhound, and Irish setter, need all the energy they can get to keep up with their daily activities. Among the traits that make hunting breeds great companion dogs for families is their loyalty, social nature, and intelligence.
However, they are the breeds that need a lot of physical activities so in return, they should be fed with the right kind of diet. If you're looking for the best dog food for hunting dogs then you've come to the right article.
6 Best Hunting Dogs Food Reviews
Dogs with a healthy diet will not only play stronger but also live longer. With that said in mind, here are our top picks for the best dog food for hunting dogs:
1. Taste of the Wild Roasted Bison and Roasted Venison
A top favorite among dog owners is the Taste of the Wild Roasted Bison and Roasted Venison when it comes to high-protein and gluten-free options. It has 32% protein for Fido's daily energy needs and is also grain-free so it contains no fillers such as corn or wheat that will deter your dog's good health. It was also made without preservatives, artificial flavors, and colors.
Since hunting dogs are prone to stomach problems, this is a good pick due to its highly-digestible formula with probiotics to help them out. It also has antioxidants and fatty acids for improving your dog's skin and coat. Not to mention, since it has a roasted flavor, your dogs will like the taste, even if they tend to be picky eaters sometimes.
This grain-free dog food comes in 3 sizes: 5, 14, and 28 lbs. for your needs. Taste of the Wild is also a family-owned brand so they'll less likely contain overly-commercialized ingredients that are cheap.
Pros
It's gluten-free and grain-free
Has 32% protein
Comes with probiotics for a healthy digestion
Has a smoky taste that dogs will love
With omega fatty acids for a healthy and shiny coat
Cons
A little pricier than regular commercial dog food
Some breeds might get allergies from it (case-to-case basis)
2. Blue Buffalo Wilderness Rocky Mountain Recipe
We like the Blue Buffalo Wilderness Rocky Mountain Recipe as go-to dog food for those who want red meat (as the first ingredient) for their hunting buddy. As a gluten-free mix, this one has omega 3 and 6 fatty acids for improving coat health. If your dog's vet advised a no-chicken diet, this is a dog food to consider, especially if you also don't like chicken by-products.
It also has antioxidants, vitamins, and minerals due to the inclusion of blueberries and cranberries. With 30% protein, this dog kibble is cold-formed to preserve its potency and to be easy to chew for smaller mouths.
As a dog food for hunting dogs, it has glucosamine that will help such breeds from suffering too much with joint problems. Moreover, the combination of deboned beef, venison, and lamb meat will help maintain your dog's muscles and overall strength. The dog food is available in either a 4.5 or 10-pound bag.
Pros
It has a kibble design that's easy to chew
Gluten-free
No chicken or by-products
Red meat is the first ingredient
Has glucosamine for joint health
Cons
A bit pricier than regular commercial dog food
Some picky eaters might not like the flavor
3. CANIDAE Under The Sun Grain-Free Dry Dog Food
If the last pick is chicken-free, the CANIDAE Under The Sun Grain-Free Dry Dog Food is a recipe made with real chicken for its primary source of protein. It is also wheat-free for those dogs with gluten allergies. Moreover, this mix is okay to be fed to puppies, adults, and seniors alike.
The chicken recipe also has probiotics for better digestion or gut health, as well as antioxidants. What's more, the omega 3 and 6 fatty acids will keep their coat shiny and their immune system in check. If your dog is sensitive to potatoes, this is also dog dinner (or lunch) that they'd like.
Furthermore, we found that the company farms their chicken sources locally with a network of quality suppliers from Texas. And, just like most foods for hunting dogs, this one has glucosamine and chondroitin which means they will have healthier joints.
You can order the dog food in different sizes, from a 4-lb. to a 40-lb. bag for your needs. It contains no corn, wheat, or soy, and is paired with healthier alternatives, such as blueberries, pumpkin, butternut squash, peas, and farm-grown carrots.
Pros
It has probiotics for digestion
Chicken is the first ingredient
Quality farm sources for the chicken, fruits, and veggies
Has glucosamine and chondroitin
Has probiotics for gut health
Cons
Might not appeal to certain picky eaters
Not ideal for large dog breeds due to the kibble size
4. CRAVE Grain Free High Protein Adult Dry Dog Food
If your buddy is aiming for a fish diet then the CRAVE Grain Free High Protein Adult Dry Dog Food is for you. Containing white fish and salmon, this mix is high in protein and is grain-free and soy-free for dogs that have allergies.
Available in bags of 4, 12, and 22 pounds, this dry dog food has 34% protein for highly-active or sporting dogs. It has no soy, corn, wheat, artificial flavors, colors, or preservatives so you only get pure ingredients.
As with most dog foods that are grain-free, it uses peas for an alternative energy source. We also checked the ingredients and it contains alfalfa meal and beet pulp, which will add plus points for your dog's antioxidant diet sourced from veggies.
Because the main ingredient is fish, it will be ideal for dogs that have itchy and dry skin or those with coat problems. After all, omega 3 and 5 fatty acids originally come from fish, right? If you are looking for a low-carb and high-fat/protein dog food for Fido, this is a considerable choice.
Pros
Ocean fish and salmon are the first ingredients
Grain-free for sensitive dogs
Contains a few veggies such as alfalfa, peas, and beet
Ideal for dogs that have skin or coat issues or allergies
Has 34% protein for healthy muscles
Cons
Chicken meal is the second ingredient – not ideal for dogs with poultry allergies
Some dogs could get gassy or oddly-colored poop
5. Purina Pro Plan Sport Dry Dog Food
For those who want an easily-accessible dog food brand, the Purina Pro Plan Sport Dry Dog Food is a decent choice. Available in a 37.5-pound bag (and other smaller or bigger sizes), this dry dog food is made in U.S. facilities to ensure quality and the safety of your pet.
This chicken mix has 30% protein and 20% fat while chicken meat is the first ingredient. It has amino acids to help your dog's exercise routines and it is also high in calories and protein due to the chicken and rice formula. This means that sporting dogs or those joining in competitions and need a lot of energy that will benefit from this mix.
Aside from that, it has EPA and glucosamine, which will support your dog's joint health, especially since they're one of the hunting dog breeds. Free radicals can be flushed away thanks to the antioxidants that will help their immune system. Since it is for all life stages, you can start feeding this kibble to growing puppies and even to seniors.
Pros
It has glucosamine for joint health
Applicable for all life stages
High in fat and protein
Has antioxidants
Great for sporting dogs with high-calorie needs
Cons
Not entirely grain-free
Some dogs (and owners) might not like the smell
6. Diamond Naturals Dry Senior Dog Food
For the old folks at home, the Diamond Naturals Dry Senior Dog Food is an option for you. Cage-free chicken is the first ingredient while the formula was made without artificial colors, preservatives, or flavors.
We found that this dog food has egg and oatmeal to boost your dog's energy while it also contains probiotics for better digestion. Moreover, it has fatty acids (omega 3 and 6) to keep your dog's coat shiny and healthy. Among the other minor ingredients that we saw on the list are flaxseed, chia seeds, pumpkins, quinoa, oranges, dried kelp, spinach, and coconut.
Since it is made for seniors, it has fiber to help your pet digest their food much better. It also has a couple of veggies such as kale and carrots, as well as fruits like papaya and blueberries for vitamins. Moreover, it has glucosamine and chondroitin to help with joint problems for your dog – a common issue with senior pets.
Pros
Made from cage-free chickens
No artificial ingredients
Has healthy fruits and veggies
Has glucosamine and chondroitin
Cons
Some picky eaters might not like it
Not entirely grain-free
Things We Considered Before Buying
Before we chose the best dog food for hunting dogs, here are some criteria that helped us in our decision (and we think you should use these as a guideline as well):
Ingredients. Protein, fiber, and fat are the key ingredients to look for when choosing the best dog food for hunting dogs. That's because these are quite sporty breeds that will always use their muscles for exercise and activities outdoors so you should feed them with a lot of protein to support them.
Protein can be found in chicken, red meat, and fish. If your pet has chicken allergies then you can just try other sources of protein, such as lamb and venison.
Fiber and probiotics are also important because they will help in terms of digestion. If your dog has sensitivity issues with their tummy, having probiotics as part of the ingredients will be a benefit to them.
Active dogs will also like fatty food sources. Fortunately, most protein-rich foods that are meant for sporty dogs do have fat content as well.
Canned vs. dry dog food. Most dog owners will tell you that dry dog food is the most efficient type to buy because of its storage life as compared to canned food, which expires easily. Dry dog food is also ideal for homes that live in highly-humid areas since cans are prone to corrosion when not stored properly. Nonetheless, having a mix of both can also be healthy to keep your dog eating happily.
Your dog's health problems. Glucosamine and chondroitin are the ingredients to look for when choosing the best dog food for hunting dogs. These help with your dog's joint health, especially since hunting dogs are prone to joint problems.
Your dog's age. Know if the dog food for hunting dogs is ideal for growing puppies, adults, seniors, or all life stages.
Free from fillers. Most people will tell you that grain-free is the best way to go, especially if your dog has developed grain allergies. Aside from that, having fewer fillers will also give your dog more nutrition due to the better ingredients it will contain.
Examples of fillers are corn, wheat, and soy, so make sure you read the labels before buying. If you want your dog's carbohydrates to go up, choose a dog food that has alternative sources, such as peas and carrots, or even oats and potatoes if they are not sensitive to such.
Conclusion
To wrap it up, the best dog food for hunting dogs should be ones that are grain-free and contain a lot of protein and fiber to help your canine friend to have energy and the right digestion. Your hunting breed will live longer when they are fed with the correct food and if you give them some TLC after every good job they perform.
Dogs are very loyal so you should reward them accordingly with quality food to keep them healthy and strong. We hope you liked our top picks for the best dog food for hunting dogs!