Last Updated on 06/02/2021 by Veronica Jones
All dog owners know that the best kind of dog food will help their pooch stay healthy. However, it can be difficult to make a decision because there are many options available. Each dog food formula is made differently, so they may not suit every dog breed and lifestyle correctly. Food needs to be matched to the specific, individual dog. If you own a Doberman, for example, you need to research to find the best dog food for Dobermans.
This article takes a comprehensive look into different kinds of dog food formulas that will suit various Doberman's life stages and lifestyle needs to help the owners decide which dog food they should get for their Doberman.
Best Dog Food for Dobermans – Our Picks
Not every kind of dog food will be right for a Doberman. Even if it is for the correct life stage of the dog, it may not have the right nutrients needed for a big Doberman. Dobermans are a large dog breed that will have very different nutrient requirements from a medium and small dog. Therefore, they will need to eat dog food that is better tailored to their needs. Here is a look at 5 excellent dog foods for Dobermans. Each dog food mentioned below will have a slightly different formula to suit various Doberman needs.
Wellness CORE Chicken & Turkey – Best for High-Protein Diets
This formula is an excellent choice for Doberman's that need a lot of protein because it has around 34% protein. It has great natural sources of protein, along with other excellent ingredients like antioxidants and probiotics to boost a Doberman's overall health.
The Wellness CORE formula is an excellent dog food for big breeds like Dobermans. The kibble is made to be big so that the Doberman can easily pick it up and chew it. It is specifically designed to promote muscle tone and lean muscle mass because it contains a whopping 34% protein and 12% fat. The main protein in this are lean proteins, like turkey and chicken, and it is free from by-products. It is also grain-free, so the carb sources are fruits and veggies like potatoes and spinach. It has added antioxidants to prevent disease and probiotics to enhance the digestive system. Plus, it has chondroitin and glucosamine that could help muscle and bone pain for hard-working and active dogs.
Overall, this Wellness Core dog food is an excellent choice for large breeds like Dobermans that need a lot of protein to sustain their energy throughout the day. It also contains tons of healthy ingredients like veggies, fruits, probiotics, etc., to support their overall health.
Pros 
Contains a lot of protein
Contains carbs, but it is grain-free
It has antioxidants and probiotics
Could help muscle and bone pain
Cons
Not ideal for low-active Dobermans
Merrick Grain Free Dry Dog Food – Best for Sensitive Tummies
Another high-protein dog food that is excellent for dogs with especially sensitive stomachs. It does not contain gluten or grain products that many dogs may be allergic or sensitive to. Contains whole ingredients like deboned buffalo and sweet potato to promote a Doberman's health.
Dobermans that need high-protein and good carbs without any fillers will love this dog food by MERRICK. The formula uses about 65% protein, most of which is made out of excellent protein like deboned buffalo, turkey meal, salmon meal and chicken meal. The leftover 35% are natural ingredients full of vitamins, minerals, fiber, etc. to keep a Doberman healthy. It is a gluten-free and grain-free formula, so the dog will still get carbs without any irritating ingredients. It has a lot of omega fatty acids that help keep a Doberman's coat and skin healthy. This one has a bit more fat than the other formulas, ranging at about 17%, so it is great for high energy dogs. However, it would not be ideal for chubby or low-energy Dobermans.
This is another great choice for dogs that need carbs without gluten or grain. It has a load of protein and fat as well, making it great for energetic and working-class Dobermans. However, low-energy, chubby and senior Dobermans may not benefit from the fat content.
Pros 
A gluten-free and grain-free formula
Contains many natural ingredients
Good fat content for high-energy dogs
Lots of vitamins and minerals
Cons
Taste of the Wild Pacific Stream – Best for Good Food on a Budget
This formula is an excellent choice for pet owners on a budget but still want quality food for their Dobermans. It contains actual fish as a great quality source of protein, along with a ton of other nutrients to support a Doberman's health.
Pet owners want to give their Dobermans the best without breaking the bank, which is what the Taste of the Wild Pacific Stream formula can offer. The first ingredient is high-quality smoked salmon, which is a lean protein that is fantastic for almost every Doberman. It contains about 25% protein, which is a good amount for regular Dobermans. However, it can still give more energy because it has a 15% fat content. The 15% fat content can help add extra energy levels to make up for the lower protein levels. It uses peas and sweet potatoes as its main carbs. It also has many excellent ingredients, such as raspberries, blueberries, tomatoes, etc. it is also great for the digestive system thanks to the extra dried chicory root and probiotics in its formulation.
Taste of the Wild is a fantastic option for household Dobermans that need average levels of protein and fat in their diet. It contains quality protein, fats and carbs to supplement a Doberman's needs, along with extra vitamins, minerals and fiber.
Pros 
Smoked salmon as the first ingredient
Ingredients to boost digestion
Extra vitamins and minerals
Grain-free formula with healthy carbs
Cons
Contains a high fat content
Taste of the Wild Dry Puppy Food – Best for Doberman Puppies
Doberman puppies need a different diet from other puppies, which they can get from this puppy formula. This dog food has novel proteins and other nutrients to provide Doberman puppies a balanced diet to help them grow. The formula is specially optimized to enhance absorption so the puppies get the most out of it.
This puppy food is fantastic for Doberman puppies because of the protein. The first ingredients are real roasted venison and roasted bison, which are quality sources of protein. It contains more protein than the average puppy food because it has 28% protein, which is crucial for big Doberman puppies. It also contains prebiotics specifically for dogs and dried chicory root that support the immune system and digestion. The formula also has real fruits and veggies to boost the puppy's health. Moreover, there are amino acids bonded with the essential minerals in this formula to enhance the dog's absorption of the nutrients. It is also free of artificial colors and flavors, grains, corn, etc., that are common allergens in dogs.
Doberman puppies need more nutrients than smaller breeds, which they can get from this dry puppy formula. It is an excellent formula to give to growing Dobermans because it has high-quality protein, carbs, fats, etc.
Pros 
Contains more protein than average puppy food
Contains prebiotics for dogs
Free of artificial colors and flavors
Free of grains and corn
Cons
Not ideal for low-energy puppies
AvoDerm Original – Best for All-Around Health
Pet owners that want something that will cater to the basic needs of an indoor Doberman can try out this formula by AvoDerm. It is a healthy formula that contains quality ingredients. However, it is only ideal for senior Dobermans and indoor Dobermans.
This formula is full of excellent ingredients like chicken meal, California avocados, brown rice, etc., to support a Doberman's basic needs. It also has extra fiber thanks to some ingredients like kelp meal and flaxseed. Moreover, there are no fillers like soy, wheat or corn in this formula. However, this may be best for indoor Dobermans that only enjoy minimal exercise, senior Dobermans, etc. It only contains about 23% protein, which is a lot less than the other formulas mentioned earlier. 
This is an excellent dog food for more relaxed, indoor Dobermans and senior Dobermans. It can offer adequate nutrition through high-quality ingredients. It is an excellent source of healthy carbs and fats for an indoor Doberman.
Pros 
High-quality fat from California avocados
Excellent protein from chicken meal
Good carbs like brown rice
Contains lots of fiber
Cons
Only ideal for low-energy Dobermans
Choosing the Best Dog Food for Dobermans – The Only Buying Guide You'll Ever Need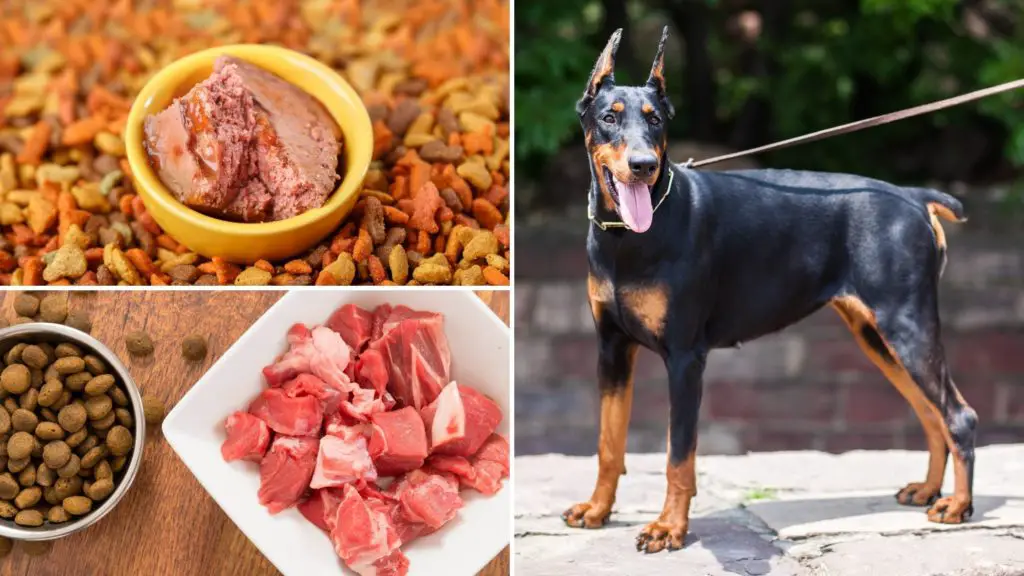 Pet owners need to educate themselves about what they should look for in dog food, especially for Dobermans. Regular dog food found at the store may not be right for most Dobermans because they will suit medium-sized dogs with moderate energy levels. Therefore, it will likely not meet the needs of most Dobermans. Dobermans have more needs than the average dog because they have lots of energy, and usually need more nutrients to feed their lean muscles. Here is a quick look at what pet owners should find in their Doberman's dog food.
Recommended Article: Best Dog Food for Medium Sized Dogs [Reviewed 2021]
Choose Good Protein Sources
Doberman owners should always look for good protein in their dog's food. Protein is crucial for dogs because they cannot survive without it. It builds their muscles, gives them energy, etc. Therefore, it is crucial to look for high-quality protein in their dog food. Moreover, a protein should be the first ingredient on the list. Protein should not be lower on the ingredient list because that means the dog food is full of other fillers that are not good for dogs. Protein should always be the first ingredient in dog food to prove that it is a quality product.
Doberman's are big, high-energy dogs. Therefore, they need at least 25-40% protein in their diet. Low-energy Dobermans will be fine with about 25-30% protein in their diets. However, high-energy Dobermans need 30-40% protein, which they can get from Wellness CORE Chicken & Turkey Recipe Dry Dog Food.
Excellent Carbs
Some people think that protein is the only thing that dogs need. However, dogs need many other nutrients in their diet, including carbs. However, that does not mean dogs can eat any kind of carb. They need complex carbohydrates in their system to sustain their energy levels and add fiber to their diets.
Whole grains like brown rice are usually a good choice for most dogs. However, some dogs are sensitive to grains, so pet owners need to look for another grain-free carb. Some vegetables and fruits are added to grain-free dog foods to add carbs without irritating grain-sensitive tummies. 
An excellent dog food that contains lots of healthy carbs is AvoDerm Original Chicken Meal & Brown Rice Recipe Dry Dog Food. It has natural ingredients like flaxseed, oatmeal and brown rice to add fiber and carbs to a dog's diet. These ingredients are good carbs for dogs that are not filler ingredients. 
Healthy Fats Are Important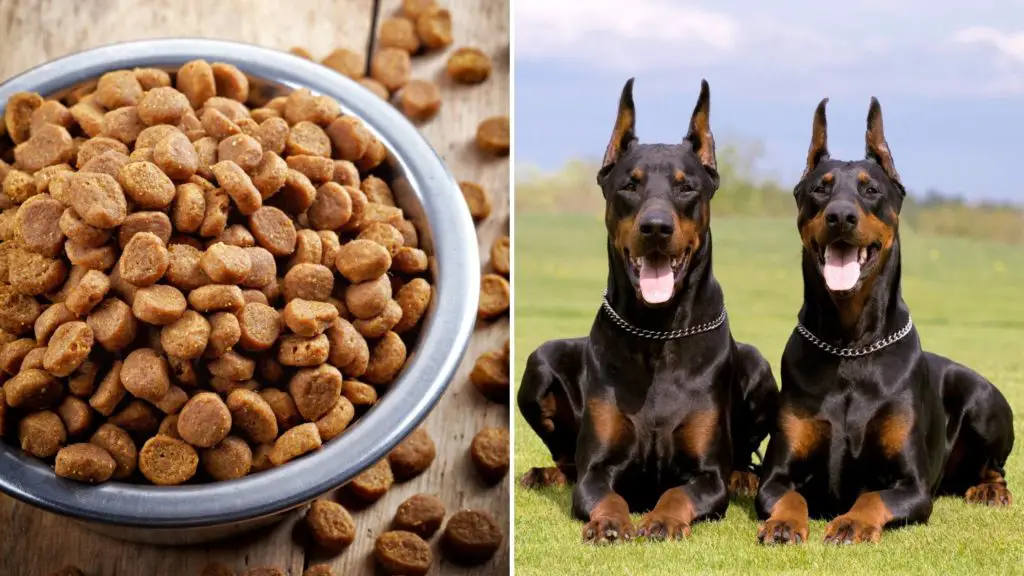 Dobermans are energetic and active dogs that need a lot of fuel to sustain their energy levels. Therefore, many Dobermans need healthy fat in their diets, especially if they burn a lot of energy. Protein and carbs are important nutrients that offer Dobermans energy, but fat is something that should not get overlooked. Not only does fat provide energy, but it also insulates, cushions, etc. 
However, a high-fat diet is not ideal for every Doberman. High-fat diets are only good for Dobermans that are active and healthy. Overweight and low-energy Dobermans will likely not benefit from a high-fat diet. The chubby Doberman will have a hard time losing weight on a high-fat diet. A low energy Doberman will not make use of the extra fat, which will cause the Doberman to gain weight. Moreover, high-fat diets are not ideal for certain health conditions. For instance, high-fat food can cause pancreatitis in dogs.
Dobermans do not have long hair, so it is unlikely the lack of fat in their diet would appear in their fur right away. However, it is still important that they get fat in their diets. A doberman's short coat can dry out fairly quickly. Therefore, having good fats in a Doberman's diet, like omega-3 and omega-6, can enhance their fur. A good choice for dog food that is high in fat is Taste of the Wild Pacific Stream Grain-Free Dry Dog Food.
The Best "Dog Food for Dobermans" – Frequently Asked Questions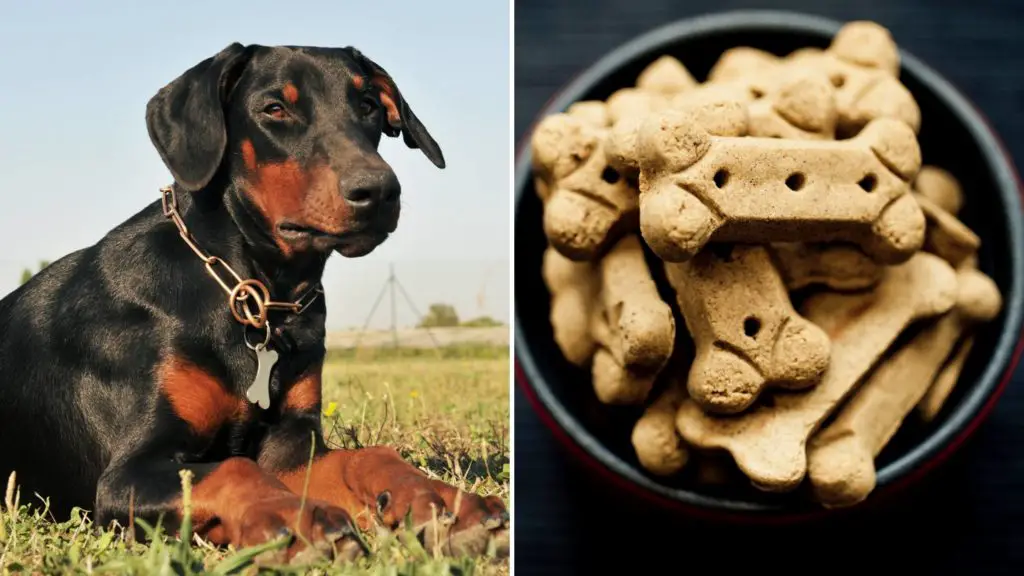 What Is Better Protein: Fish or Meat?
Meat is a more common ingredient in dog food, but neither is technically "better" because it would depend on the specific dog. Some dogs may have allergies to chicken and beef, so fish would be better for them. However, fish does have extra nutrients like amino acids that can improve a Doberman's coat and health. However, it is perfectly fine to give other meats like venison, beef, chicken, etc., if the dog is not allergic to them. 
Are Meat By-Products Bad?
Generally, pet owners should avoid any kind of by-product in their dog's food. Meat by-product often gets listed as "meat by-product" in the ingredients list without specifying the type of meat, how it was cooked, etc. Therefore, they could be scraps from the slaughterhouse, like intestines, chicken feet, blood, brains, etc., that would not benefit a dog as much as real meat cuts. It would be best if it stated what type of meat it is, and if it says "meal" (like chicken meal), that is the best because it is more concentrated.
Are Artificial Ingredients Bad?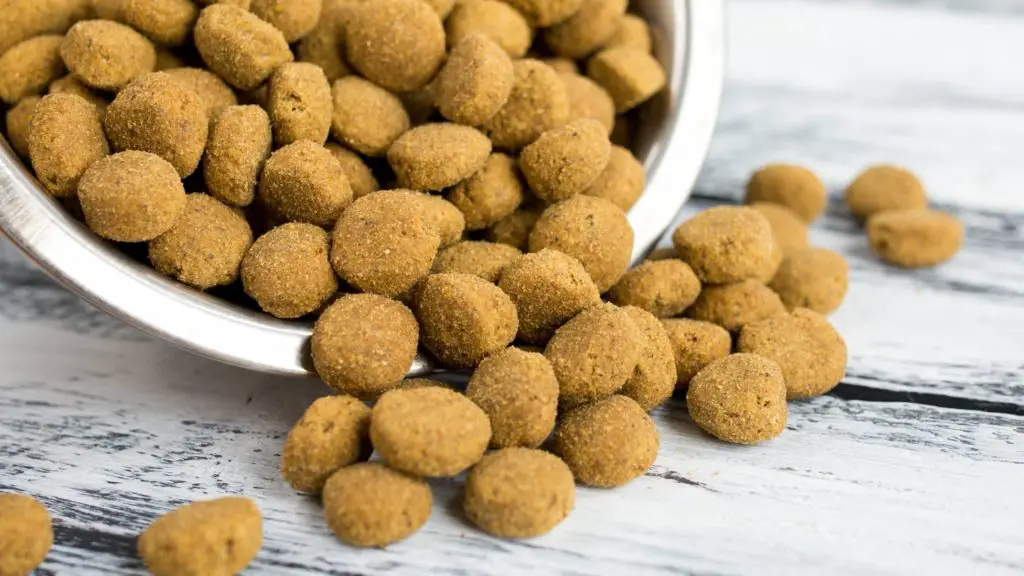 Artificial preservatives and colors are usually not necessary and can be bad for a dog's health. These artificial ingredients can weaken the immune system and irritate sensitive tummies. There are many natural preservatives that can keep dog food fresh for a while without harming the Doberman's health. Therefore, pet owners should always opt for artificial-free dog foods.  
Conclusion: Getting the Best Dog Food for Dobermans – How to Make the Right Choice
Choosing the best dog food for Dobermans starts with doing research. Not all dog foods are made equal, so it is important for pet owners to take an in-depth look into exactly what each dog food contains. The 5 dog food formulas listed above can be great for specific Doberman life stages and lifestyles, but they will not be right for every Doberman. Therefore, each pet owner will still have to take into account their own Doberman's needs and comparing it to the top brands to make the right choice.
References: